Happy Friday, everyone!  So happy to be back with you all for a little more inspiration using the Christmas Stamp Set!  I've so enjoyed playing with these sweet images, and I don't know about you, but so often for me,  'playing around' with my stamps is THE easiest way to be inspired.  Last week, when experimenting with the images to figure out what I wanted to do for my first project, I stamped the little striped border from this set in red and remembered thinking…'looks like a peppermint stick!'  So you can guess what little idea has been lurking in my mind since then…
Yep…turning that little border into a candy cane!  Now sometimes (MANY times, actually),  those little ideas in my head don't translate onto paper so well.  But I was pleased that this one did!  I dressed up the two candy canes with some holly and berries (PTI), and a little twine bow, of course…and added glitter to the red one for some extra sugary sweetness.   And for the sentiment, I inked up one word at a time from the 'Merry Christmas' phrase to create two little banner greetings.  I liked the way the two filled the space better than the single long phrase…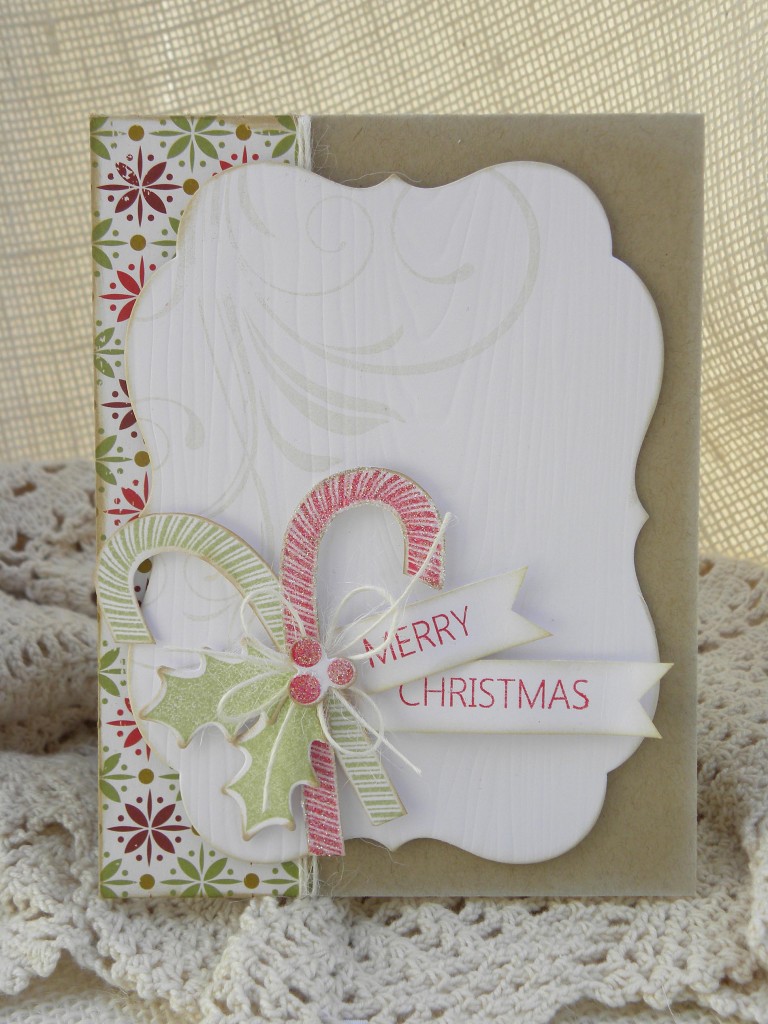 I gave it a snowy white die cut and woodgrain impressed background with some subtle stamping, and placed it atop some Kraft cardstock, with just  a strip of pretty festive patterned paper peeking out.
Hope you like it, and I hope you'll be inspired to look at the stamps you have with a new creative eye and see what new designs YOU can come up with!
Thanks so much for visiting today!