Hello, Precious Remembrance fans!!  Happy Friday to YOU!!!  Hope this day finds you with a satisfied tummy and some time to relax!  (Unless you ventured out for some Black Friday deals, that is.  And if you did…well, I'm kind of surprised to see you here…but so happy you made it!!! ) As I type this, my family and I have just wrapped up a long but wonderful day in Disney World!  We've followed our oldest down here to watch him perform with the rest of his high school band at Hollywood Studios.  Before we headed out this AM I photographed this card that I brought along on the trip…(and yes, I felt a little silly wandering around my resort, snapping pictures of my little posed card!;)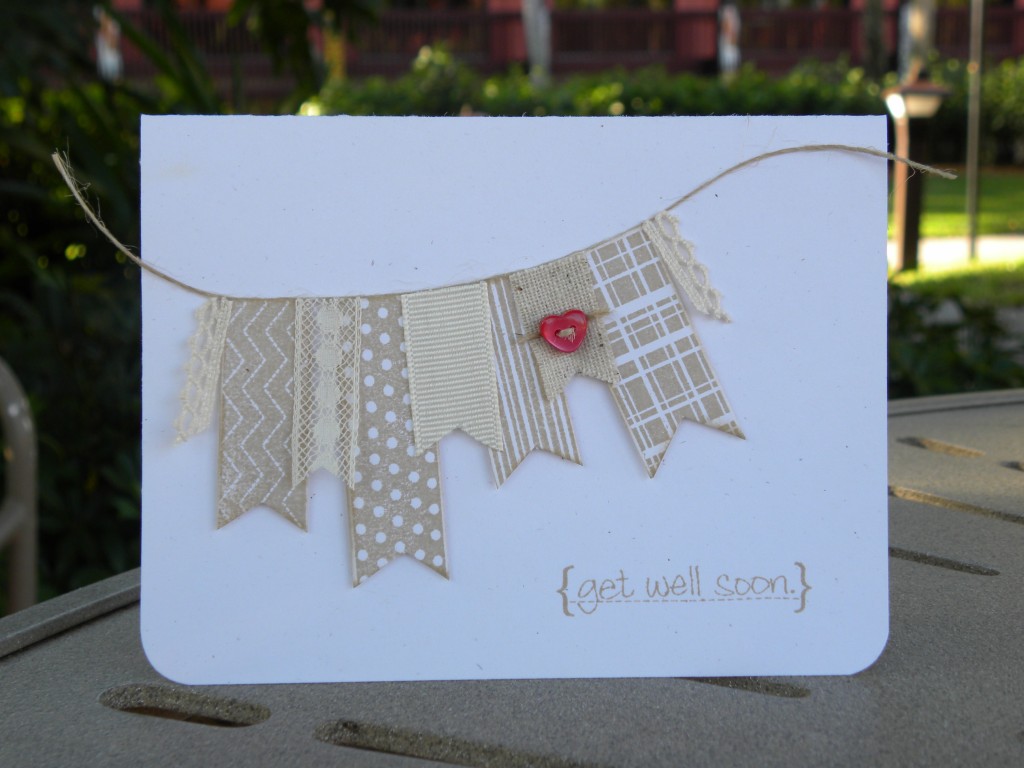 This one was made made with Dyane's new Border Tape #1 set.  I hadn't used this set yet, and the other girls have done such a nice job presenting it in it's true washi style form that I thought I should play around a little and find another way to use it.  As you can see, I used the patterned sections of border/tape to create little flagged banners for my card.  I then added bits of trim and fabric to add some fun texture, along with the little red heart-shaped button.  Lastly I added some sweet 'get well' wishes with a sentiment from the Positive Thoughts set.  It was a really simple design, once I decided what I wanted to do! I love the fun patterns in this set!
Thanks so much for dropping by today!  Hope the rest of your weekend is wonderful and full of holiday spirit, wherever you may be!!!