Happy Wednesday Precious Remembrance Shop fans!!   Rosemary here on the blog today to share two cards that I made using the Sweet Pea stamp set.  Today is a bit of a sad day for me as this is my last post as a member of the Precious Remembrance Shop design team.   It was a hard decision to make as Dyane is one of the sweetest people you could ever find and it has been so much fun being a part of the team, but as the poet Geoffrey Chaucer wrote "all good things must come to an end".   And so my time with Precious Remembrance Shop has come to an end.  But, you will still find me creating with my PRS stamps (which I LOVE) and like the rest of you I will be eagerly awaiting the next release!!  Now… on to my first card!
I decided to do some watercoloring and so I stamped one of the little pea pod images on some watercolor paper with VersaMark watermark ink, applied white embossing powder and heat set.  (I actually did that twice you will see the other one on the second card.)  I then taped my watercolor cardstock to a little wooden cutting board I have and did my watercoloring.  Taping the watercolor cardstock down helps to cut down on the warping that occurs when you watercolor.   After I had colored the pea pod I added a little wash of color using a lighter shade of green than the one used for the pea pod.  I die cut the image along with a tag from some patterned paper.  The sentiment was stamped and adhered all the layers to my card base.  Finished things off with a bow made from light green and light pink baker's twine.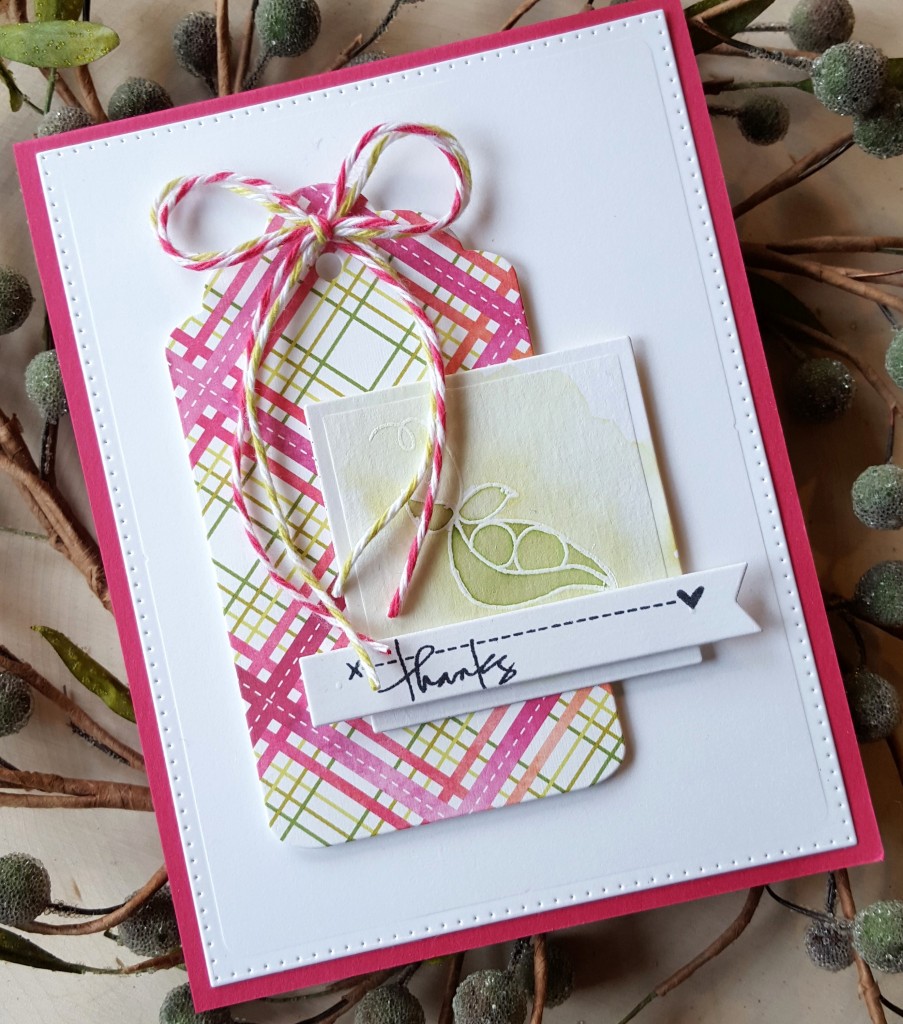 The second card uses the same layout the only difference is that I used a sentiment from the PRS set Thanks and created a little banner.  Because the patterned paper had a bolder look to it I used dark pink baker's twine along with the light green to create my little bow.  I created the second card as a little 'thank you' to Dyane for seeking me out and asking me to join the PRS design team.  I will never forget that day and just how excited I was to be asked!  It has been a true honor being a part of this wonderful team!!   Oh… and one more thing!  Did you see the yummy new sequins Dyane has in the shop???  I will be picking up some to add to my growing sequin stash… I hope you do to!!!
Thanks for stopping by today…