Hi stampers! Thank you all so much for joining us & letting us share our project ideas using our Date stamp set.  We hope that you got inspired and enjoyed every projects.♥ As we continue sharing more creative ways in using our stamps, we  are very excited to introduce a very special & very talented guest designer who will inspire us more with a total of 3 amazing projects – today & in the next couple weeks.
Please welcome Missy Whidden with her first layout + video tutorial! Yay!:)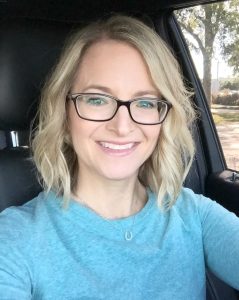 Hey there!  I'm Missy Whidden from sunny Florida, USA.  I've been married to Marshall for 17 years, and we've been together since I was 18.  We have two beautiful little girls, Reese and Paige.  They are both autistic and nonverbal, so life around our house is never boring.  They keep things interesting and are usually the subjects of my scrapbooking.  I have been scrapbooking for over ten years now.  My mother-in-law got me started when I helped her make a scrapbook of my husband's baby photos and I was instantly hooked.  My style has changed quite a bit from stickers, paper and deco scissors.  I  have gravitated toward mixed media, and I love using paints, watercolors, spray inks and gelatos on my projects.  I also love machine and hand stitching, incorporating die cuts from my Cameo and using bright and bold colors.  I guess you could call my style "organized chaos" since I love a messy and artsy look while still making sure every little detail is in place.  I'm so excited to be guest designing here this month!  Thank you so much for having me!
——————————————————————————-
I was immediately drawn to the scribble stamp from the Happy Art Stamp Set.  It reminds me of my youngest daughter, Paige.  She's wild and crazy, and her personality is full of spunky rambunctiousness!  She has unruly wavy hair, and her life's mission is to make huge messes.  I had to create a layout that fits her, so I created a photo strip of photos of her.  I wanted the look of messy scribbles coming out from behind the photos with lots of splotchy color.  I decided where the photos were going to go and then used black archival ink to stamp a bunch of the scribbles around that area.  I used plastic packaging and various spray inks to create some watercolor areas on the background.  I used some of the Amy Tangerine On a Whim collection for the rest of the design.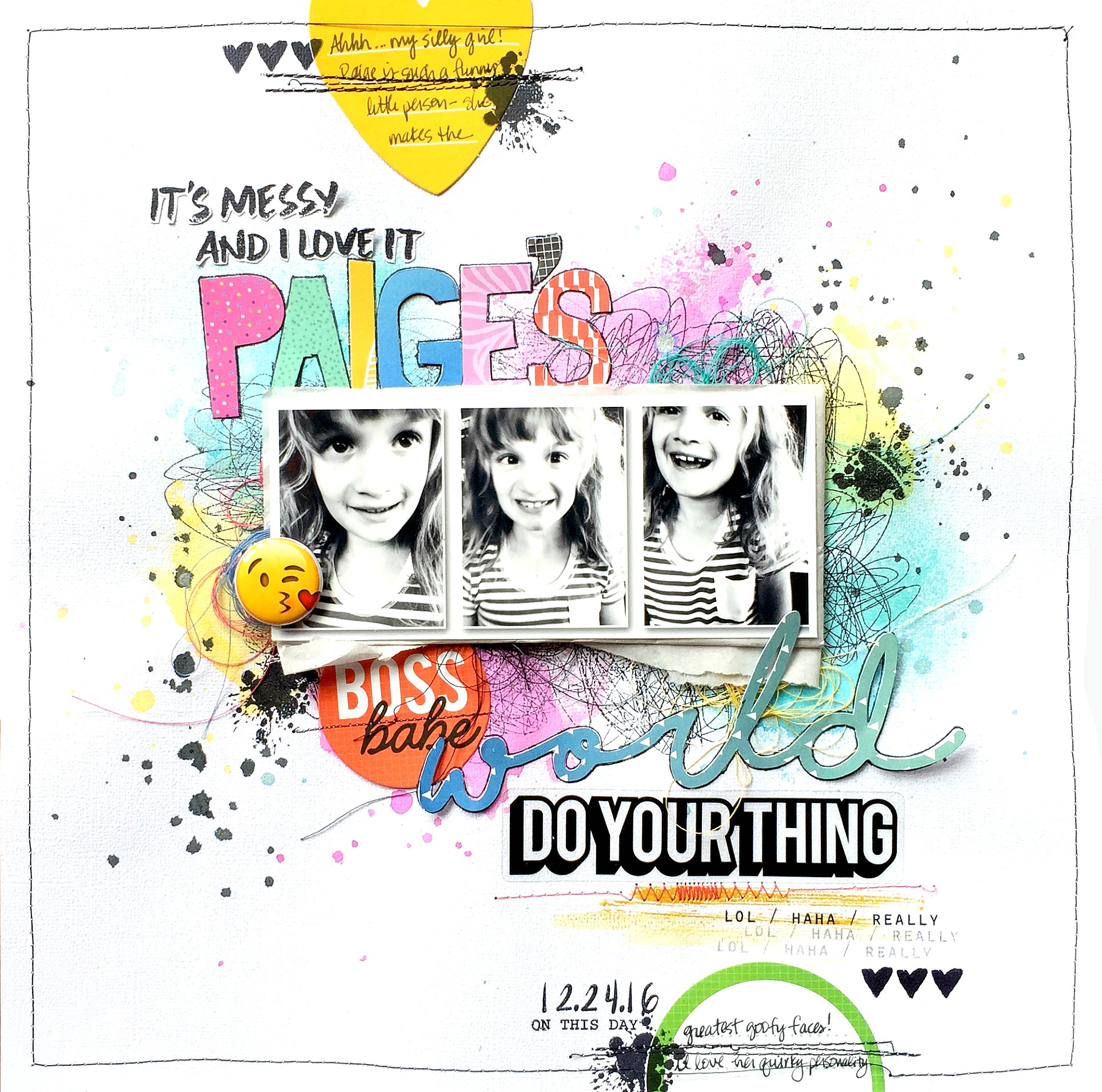 I absolutely love this stamp!  It's so fun and messy, and it's perfect for my style.  I incorporated a few other stamps on the layout as well.  I used this fun ink splatter from the Happy Art Stamp Set around the page a few times.  It's the perfect splatter.  I added some more black ink splatters as well as some tangled thread peeking out from behind the photo.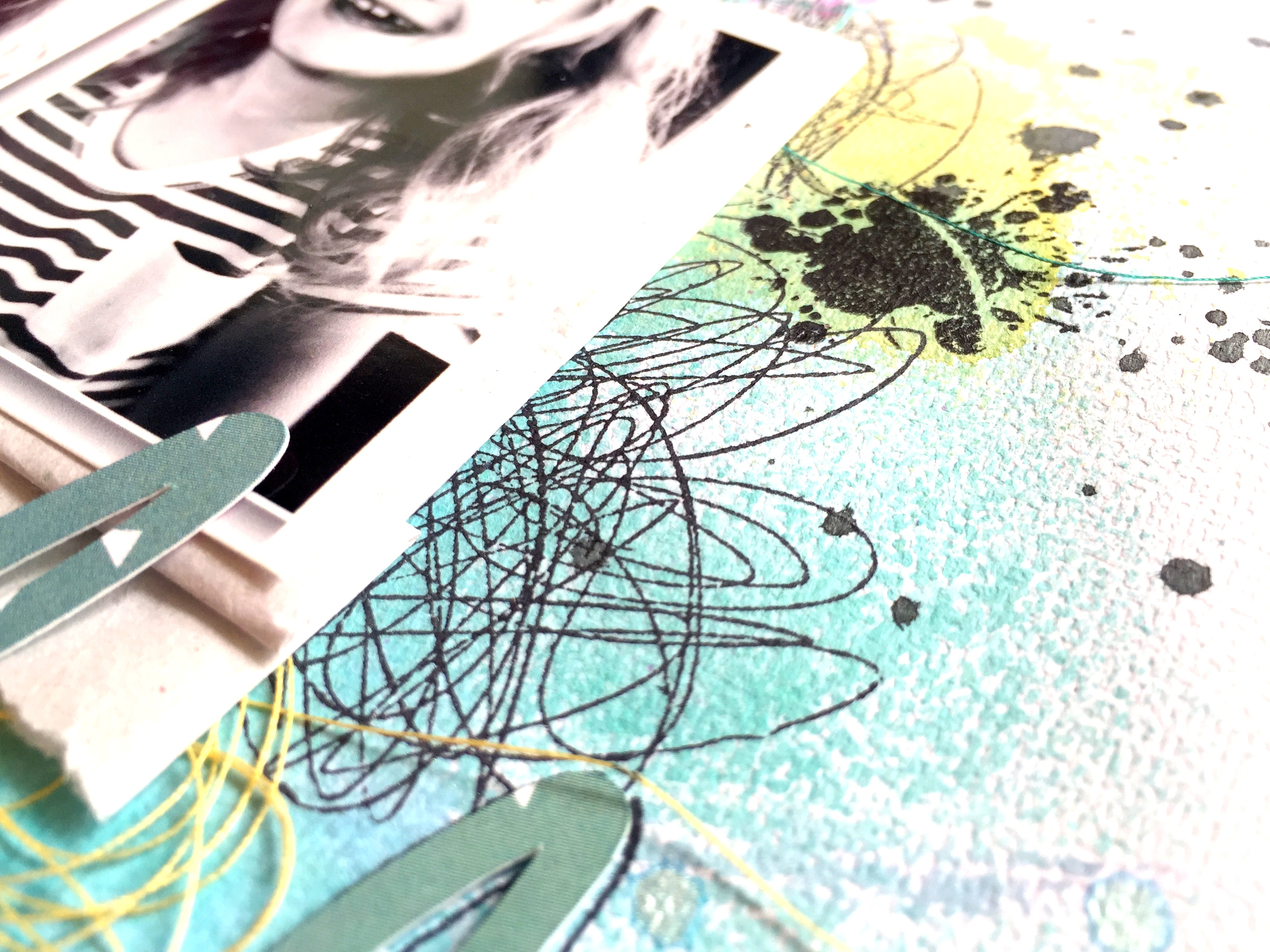 I added more of the ink splatter stamp on this side of the layout.  I added some fun die cuts around the page as well as this cute flair button.  I love adding tangled thread to my pages, and here I used a few colors.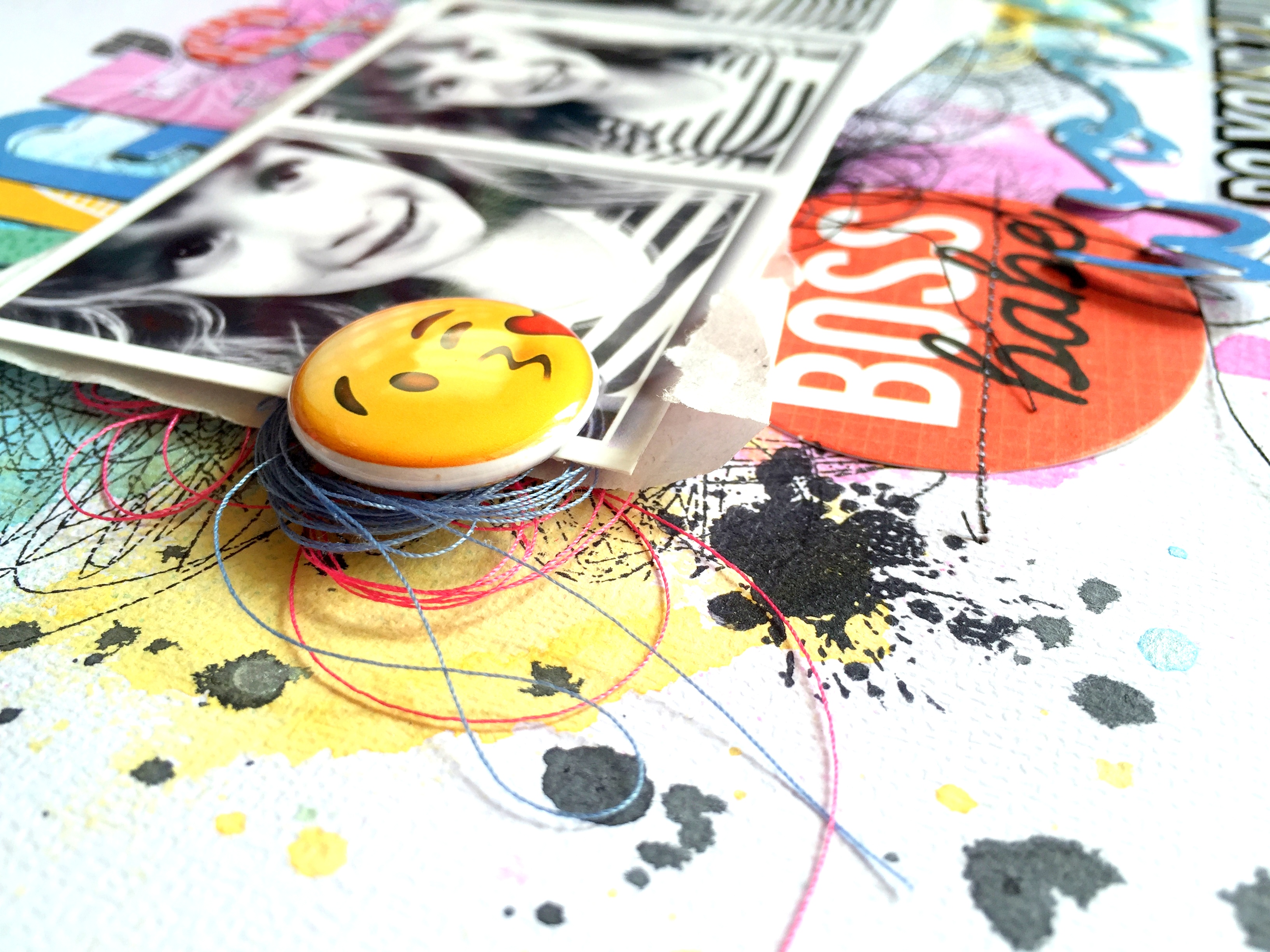 I wanted to create a sub title, so I stamped this sentiment from the Happy Art Stamp Set and then fussy cut it. I wanted to lay the words out differently than they were on the actual stamp, so cutting each word out worked out great.  Plus, it said exactly what I wanted it to about my sweet girl!  For my main title, I hand drew the letters of her name on some of the Amy Tan papers and cut them out.  I traced around them with black pen to make them pop a little more.
I used even more stamps down at the bottom.  I created the date using the Date Stamp Set, which I love!  I also used the fun brush stroke stamp from the New Day Stamp Set, and I used a Heidi Swapp ink pad in Mustard for that.  I also used a fun sentiment from the Totally Stamp Set.  I love how versatile these stamps are!  I added another die cut here at the bottom and then machine stitched through it.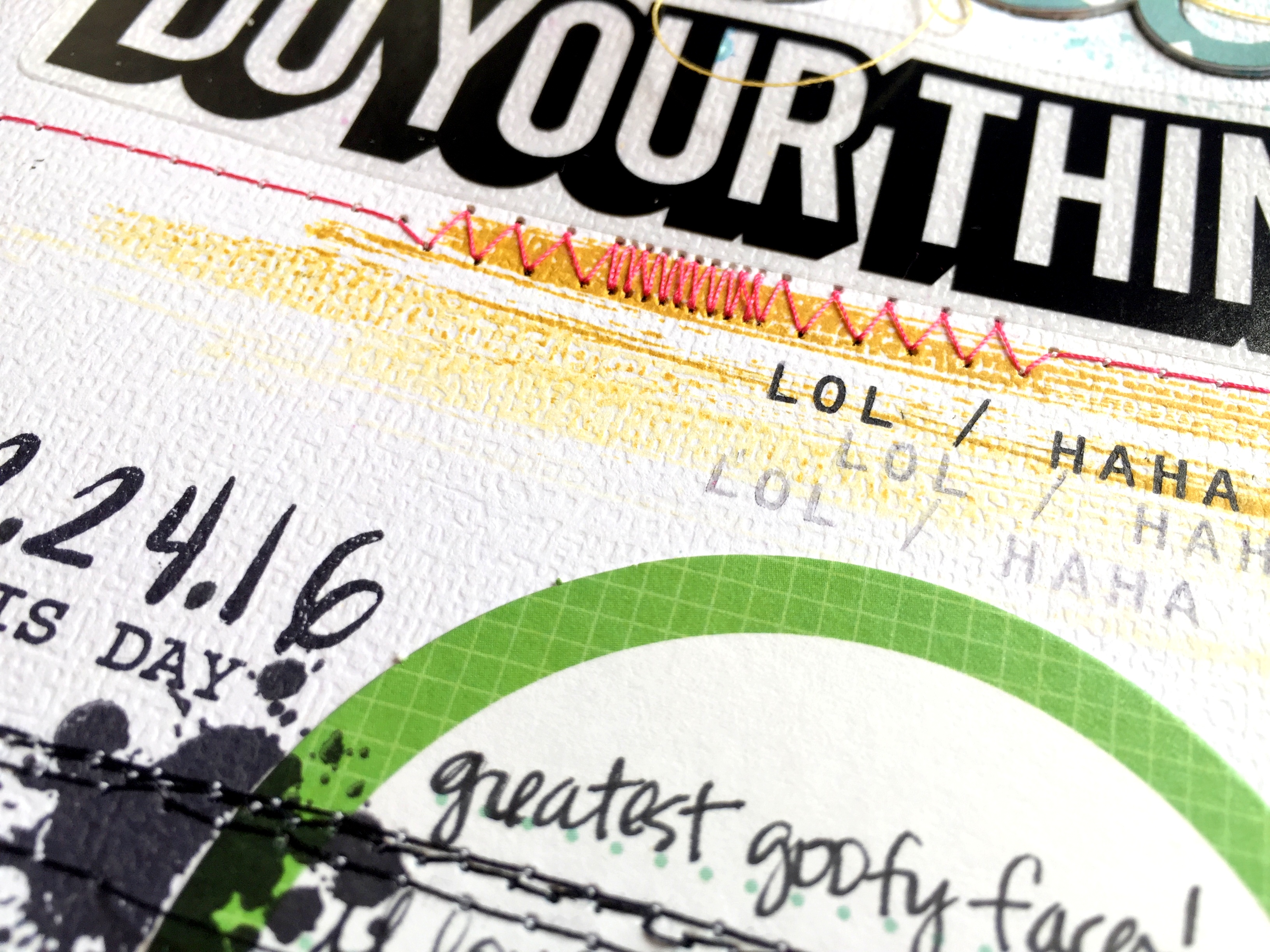 Here's my process video if you'd like to see how I put this layout together.  I had a blast making it, and I hope it inspires you in some way!
Stay tuned for two more of my projects coming your way soon!  Have a great day!