Hey there, friends!  Missy here again, and I have a fun layout to share today using stamps from three different sets.  I used the New Day Stamp Set, the This Moment Stamp Set and the Date Stamp Set.  I used up some of my stash for this page, and I really love how it turned out.  I wanted to do some heat embossing on my background, so I pulled the three circles from the New Day Stamp Set and used gold embossing powder on them.  I created my background using a wide strip of Dear Lizzy Documentary patterned paper and layering it over some white cardstock.  I covered a lot of the paper with white acrylic paint first.  I did the embossing once I decided where my photo was going to go.  After I did the embossing, I came in with some paints and sprays to jazz up the background and create a watercolor effect.  The fun thing about embossing is that it resists any liquid, so the color went on the areas in between the circles.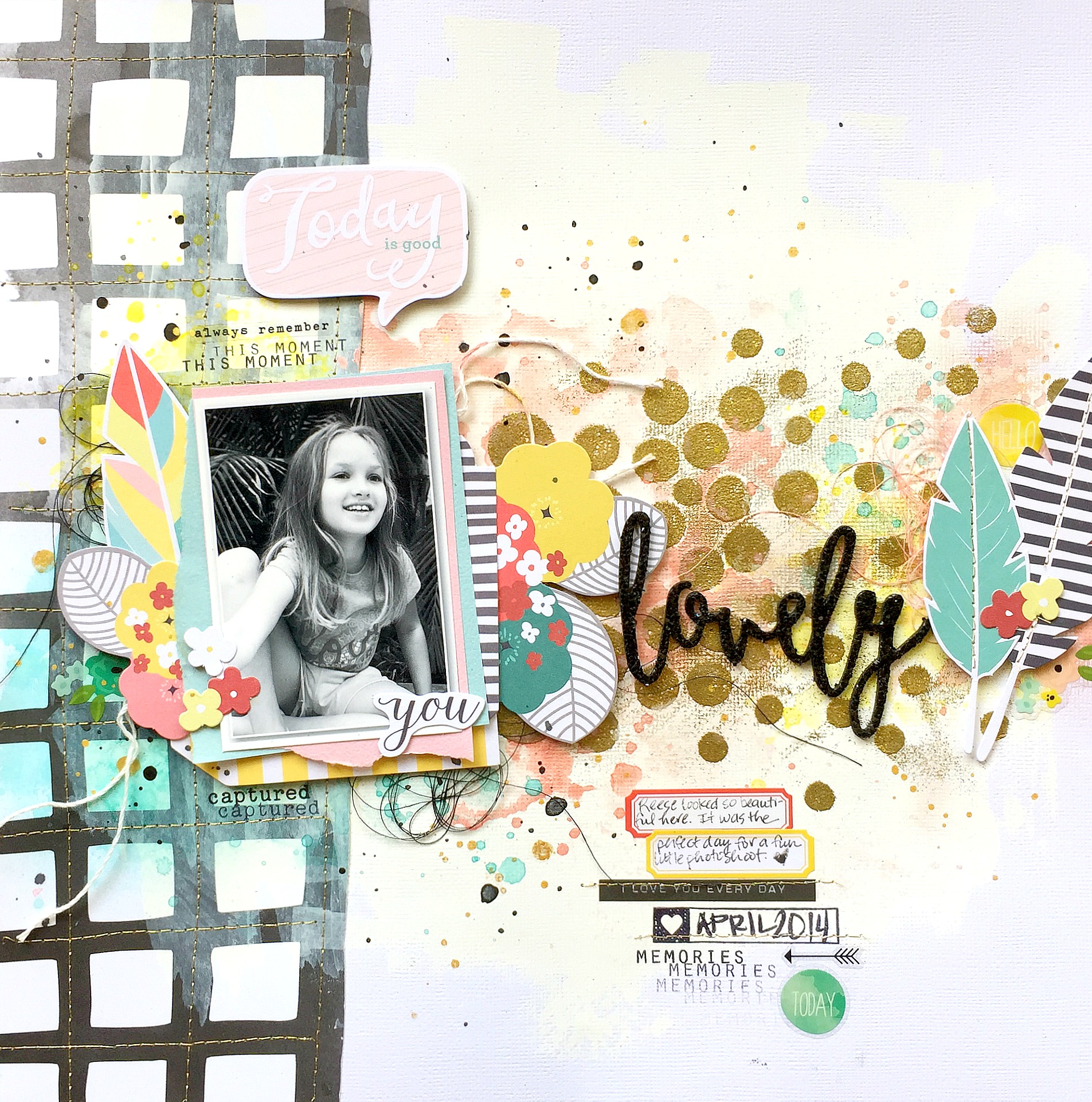 Look at how gorgeous these circles turned out!  You could do this technique with any of the stamps and any color powder.  I decided to embellish my layout with bits and pieces from the Fancy Pants Happy Place collection and the Simple Stories Life in Color collection.  My title is a black foam glitter sticker from Pinkfresh Studio.  I love how everything looks together with the gold stamped circles.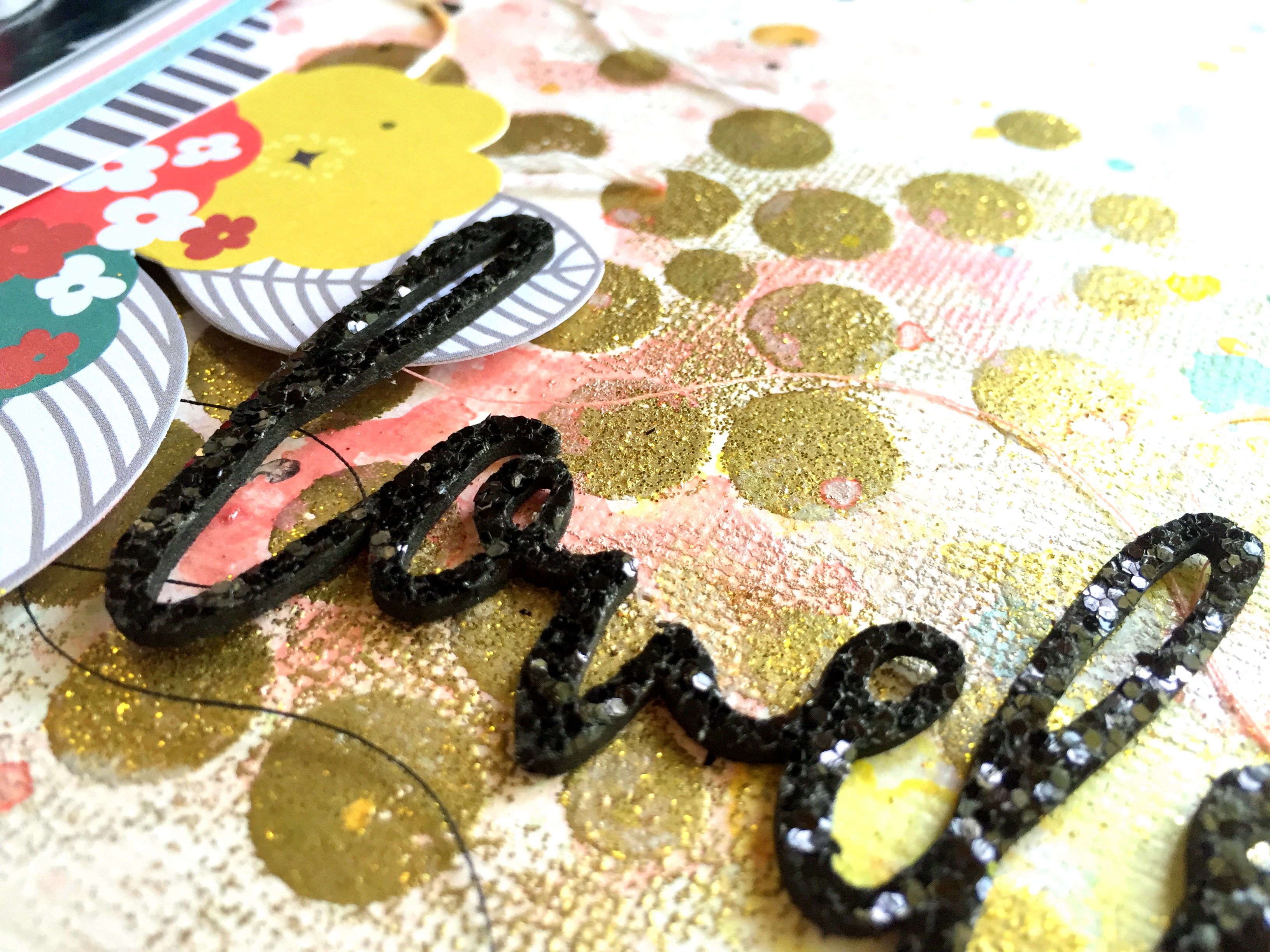 Here you can see all the layers I created by tucking in bits and pieces under and around the photo.  I also added some foam under all of it to raise it up off the page.  This creates such great dimension.  in addition to the packaging technique, I also used my brush and the nozzle to splatter the paint around the page.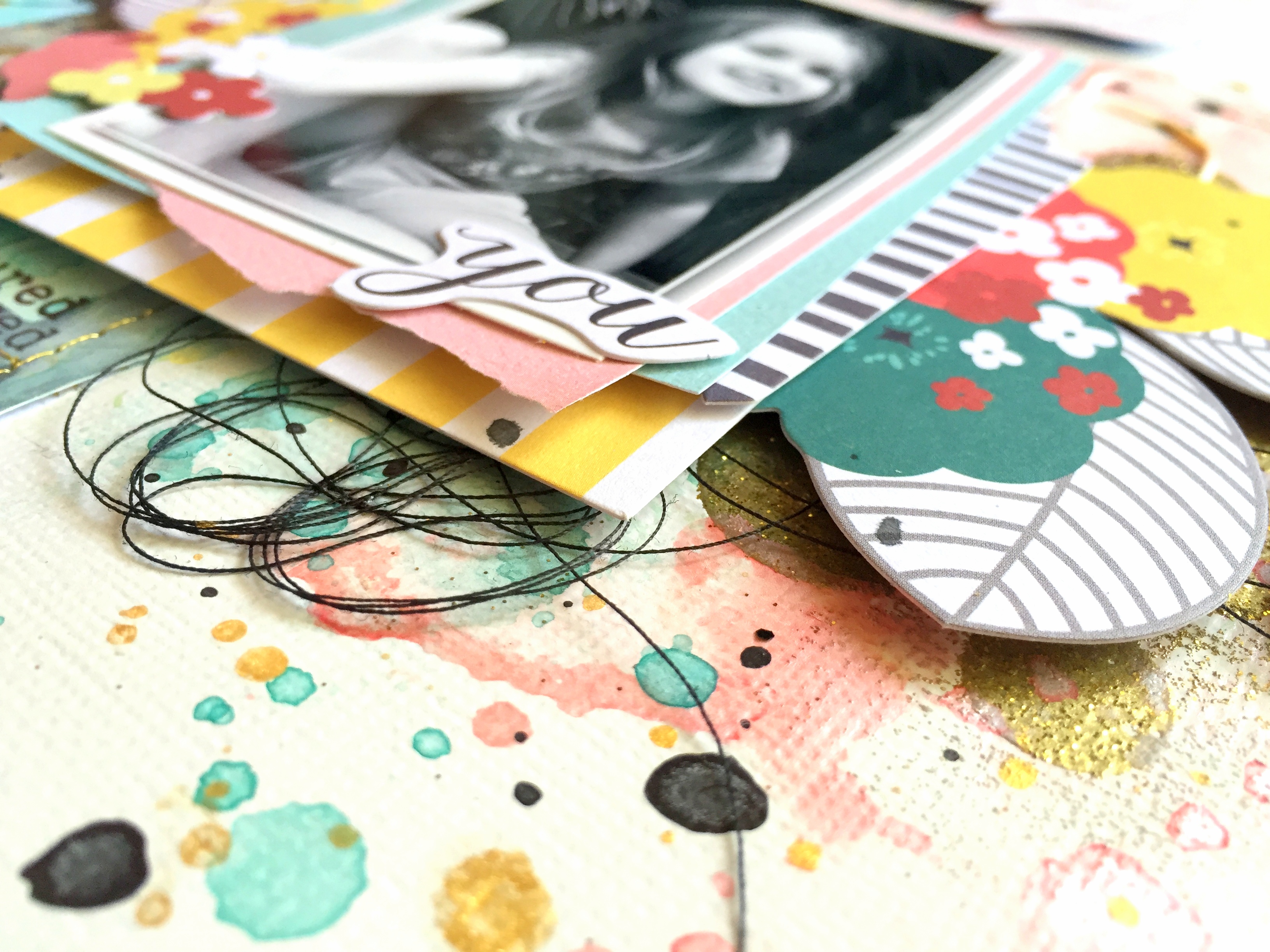 I used the This Moment Stamp Set here down at the bottom to create this fun cluster.  I first used a few stickers from Simple Stories and then stamped that label with the heart and the word "memories" under it.  I also used the Date Stamp Set here to add the date.  To finish this area off, I ran it through my sewing machine using metallic gold thread.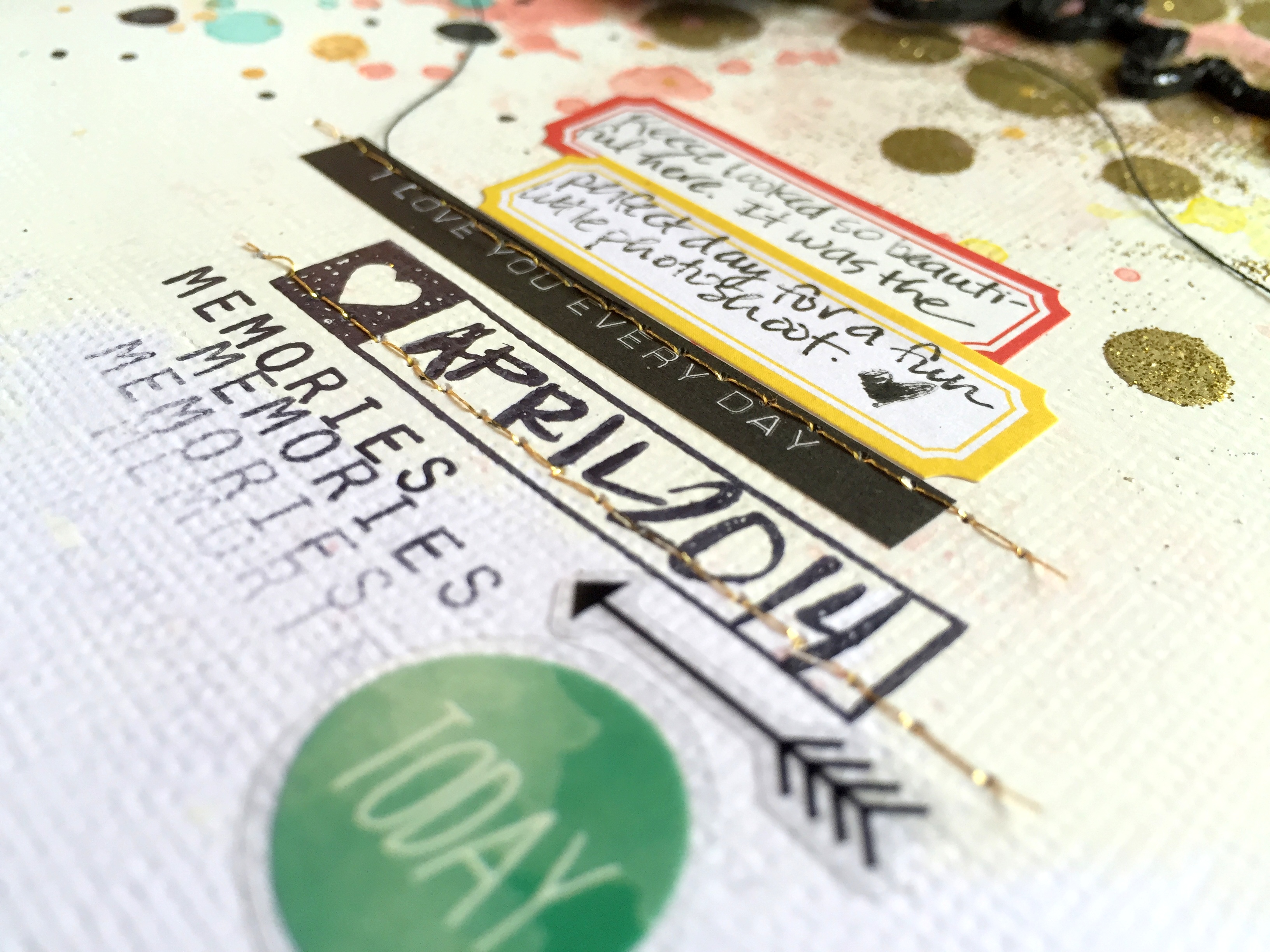 I did more stamping above the photo using the phrase "This Moment" from the This Moment Stamp Set.  Those small sentiments aren't just for cards; I love using them on my layouts like this.  They make the perfect little details.  Again, I added stitching along the grid paper for extra texture and shine.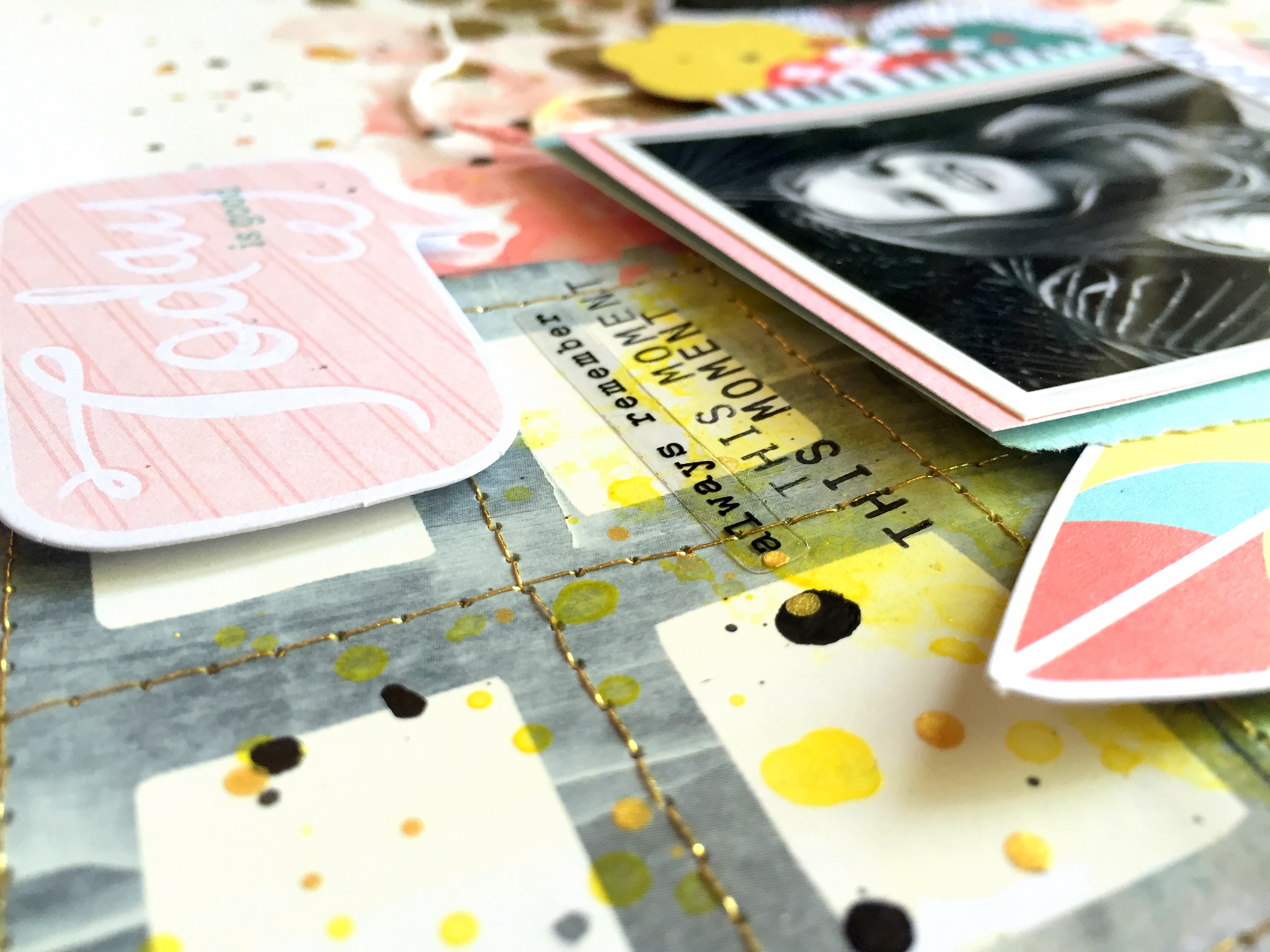 I hope this inspires you to pull out your stamps and create a fun background with them.  And don't shy away from using the smaller stamps on your pages, either!  Those little details can sometimes make the biggest difference.  I have a process video for you if you'd like to check it out.
Thanks so much for stopping by, and have a great day!