Hello again, friends!  Missy here, and I have a fun layout to share using stamps from four different stamp sets.  I used the new Happy Mail Stamp Set along with the Fall Colors, Journey and This Moment Stamp Sets.  The majority of the Happy Mail Stamps are perfect for cards or decorating gifts, so I decided to use the small arrow to create a fun background.  My photos are of my daughters doing one of their favorite things…running around outside.  They always run away from each other usually, so I created to big circles with the arrows to show movement.  I used lots of blue and green Distress Inks to do this as well as some Shimmerz Paints, and then I used the same inks to create the watercolor splashes.  My favorite part of this layout was using the beautiful leaves from the Fall Colors Stamp Set.  I heat embossed them with gold powder and then used the inks to color in the white areas.  There's just something about glittery leaves!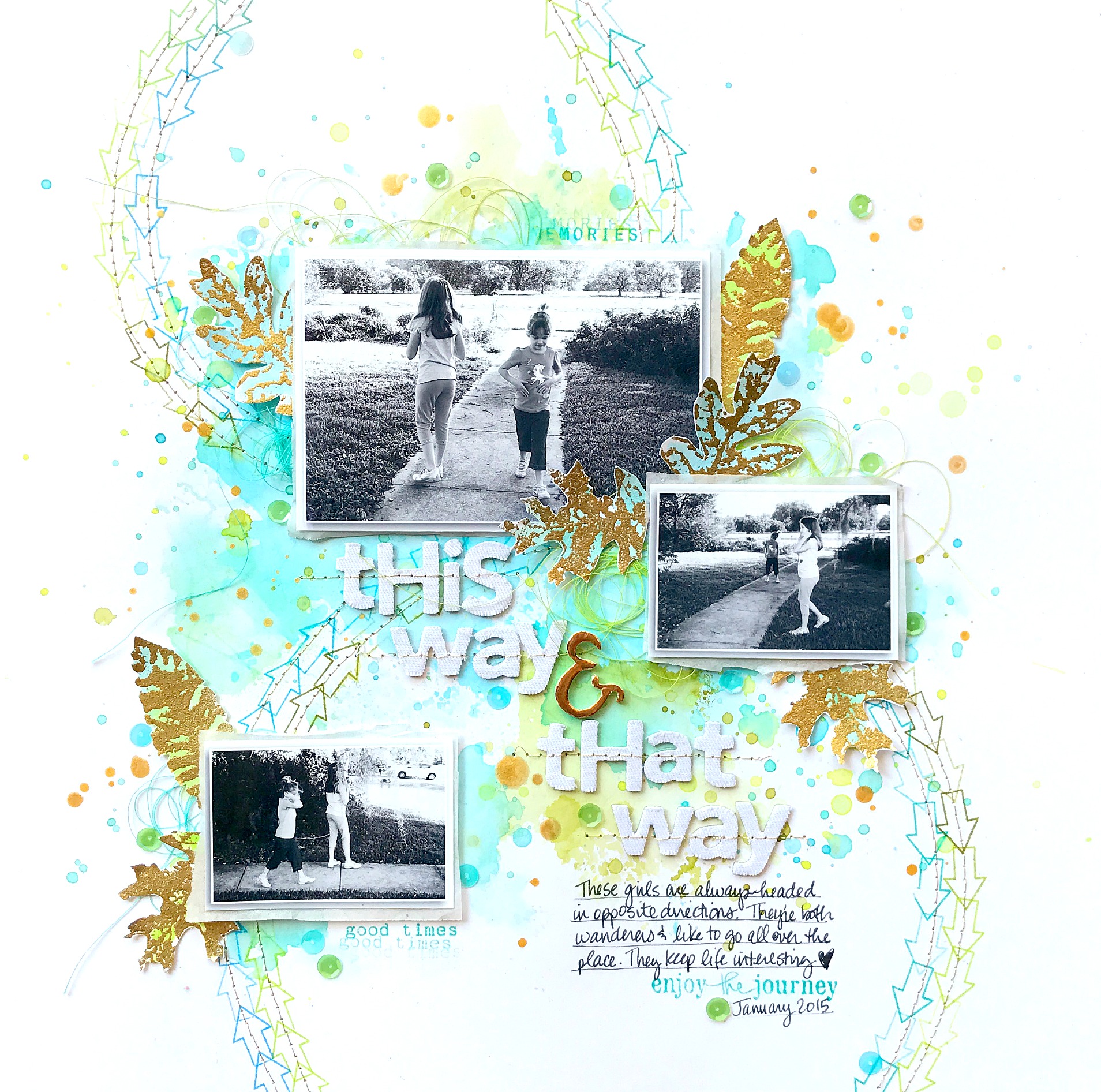 I used smooth cardstock as my background for this, and here you can see how pretty the stamping turned out.  I stamped each arrow a few times to get lighter shades of each color.  I love that some of them look a little distressed.  A perfectly stamped image isn't that important to me, especially if I'm creating a background.  Look at this beautiful leaf!  I love how they turned out.  I went with gold because it's just so pretty mixed with these blues and greens.  I also did a bit of machine stitching with metallic gold thread for some extra shine and texture.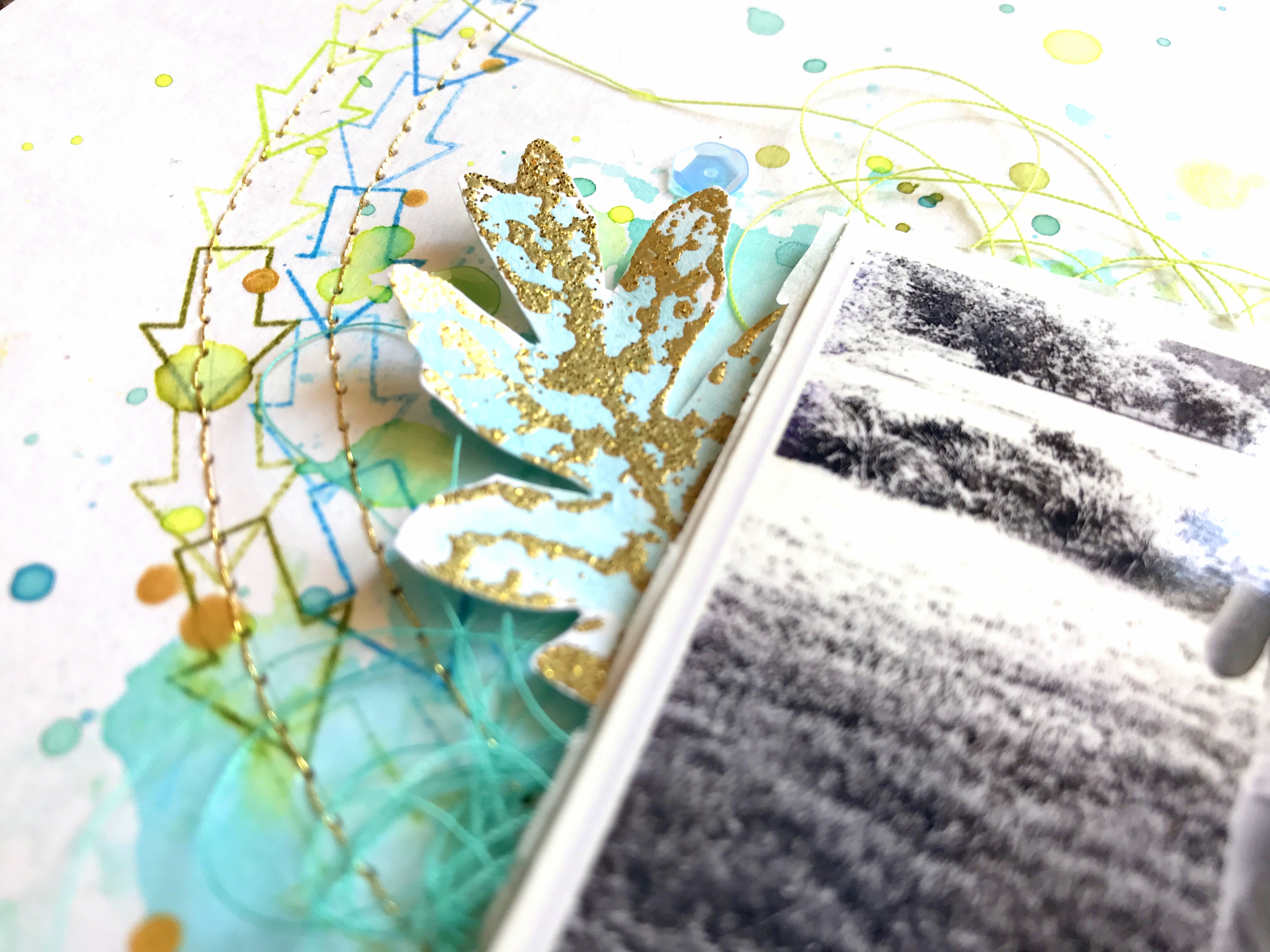 Here are more leaves that I tucked in between my photos.  I stamped them on some scrap white smooth cardstock and then fussy cut them out.  This is a great way to create your own embellishments!  I printed my photos in different sizes, and I don't do that often.  It was fun to play with multiple photos like this.
Here's another look at those awesome arrows from the Happy Mail Stamp Set.  I wanted my title to reflect the motion of the photos, so I pulled out some old white fabric Thickers and staggered them.  I used an ampersand from a set of gold Thickers and then machine stitched through the words.  I also added a lot of splatters using the Distress Inks, some gold Heidi Swapp Color Shine and some Shimmerz Paints.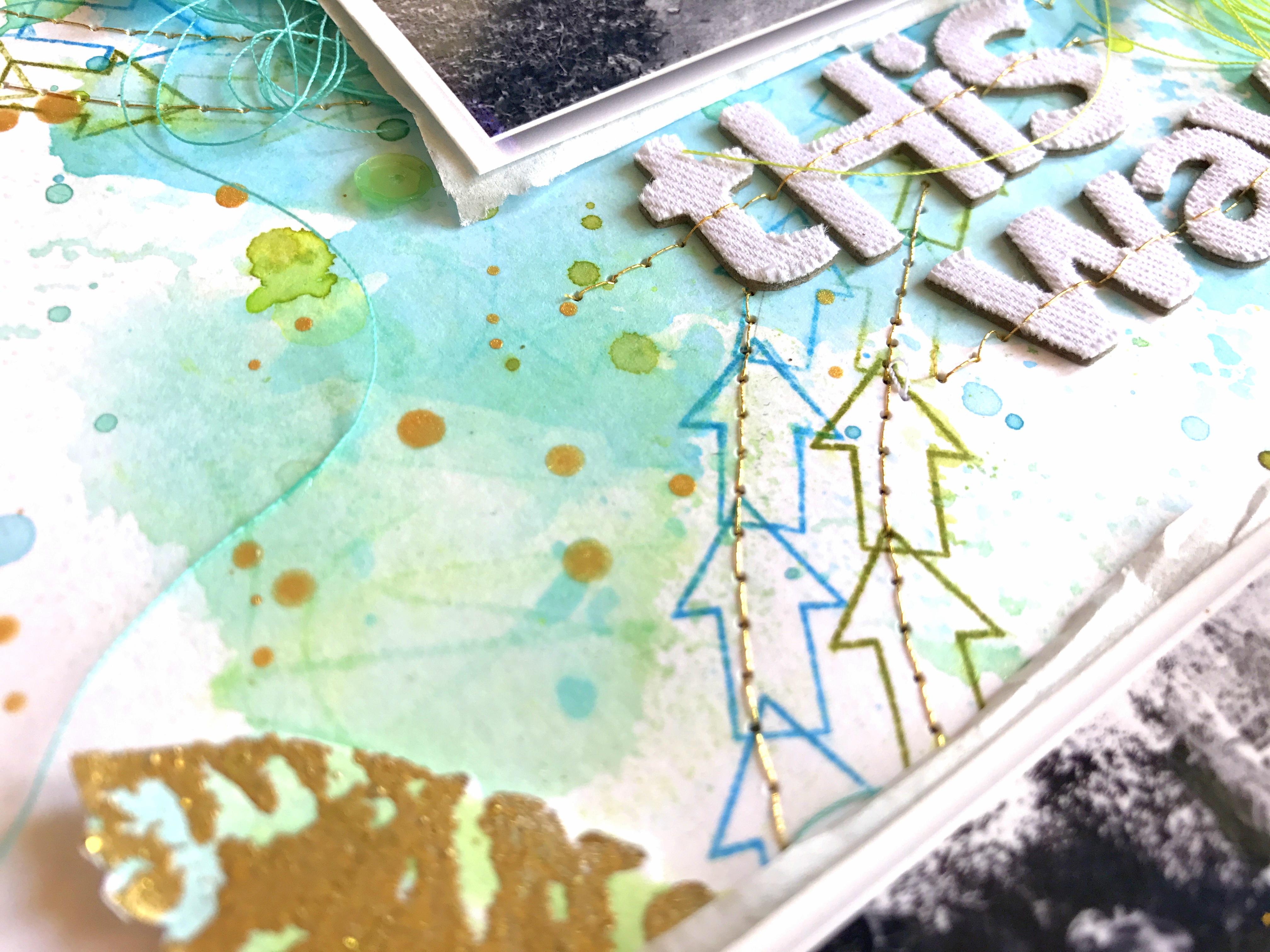 I tucked in a few more leaves here under my bottom photo along with some tangled thread.  I did add some adhesive foam under all my photos for dimension.  I did use a few sentiment and phrase stamps from the Journey and This Moment Stamp sets under two of the photos and under my journaling.  I finished everything off with some blue and green sequins from Spiegel Mom Scraps.
 This was so much fun to make!  I hope you got some inspiration on how to use stamps on your layouts.  I have a process video here if you'd like to see how I created this.
Thanks so much for stopping by, and have a great day!