Hello Precious Remembrance Shop friends… Helen is here. I am super excited to share my very first project with you all today!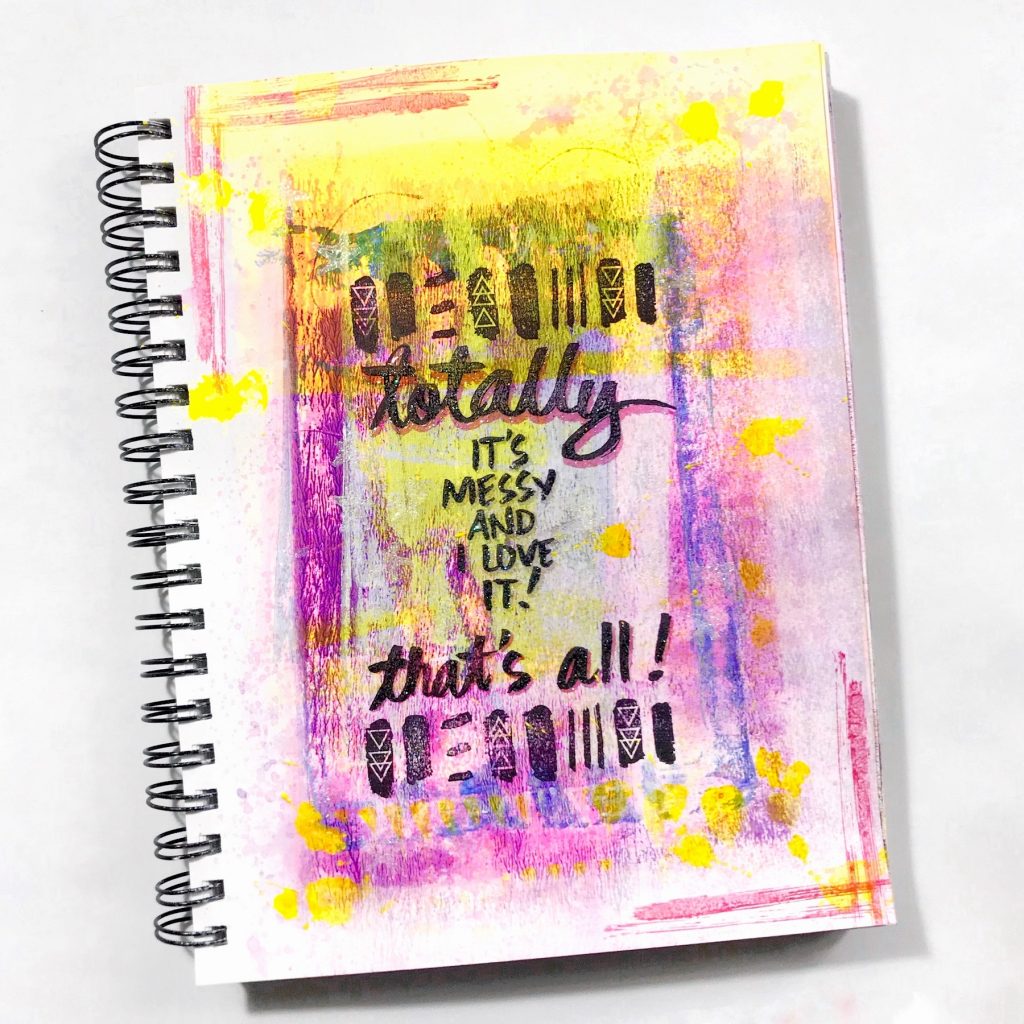 I created a mixed media art journal using the Totally Stamp Set and Happy Art Stamp Set. This is also my first art journal page of this year with a new mixed media book.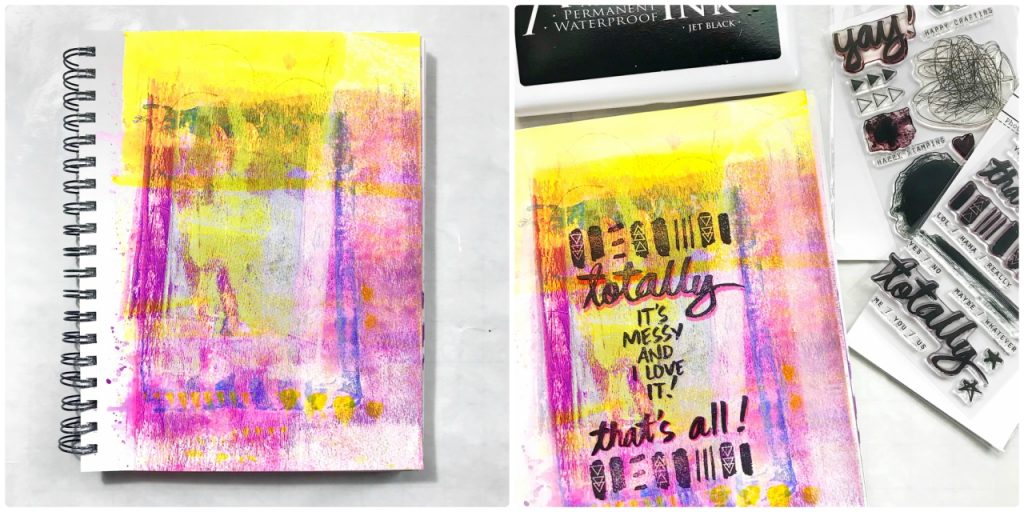 First, I added the neon acrylic paints (pink, yellow, green and purple) on the page with rubber brayer. Then I grab the toiler paper roll, dibbed it into acrylic paint and stamped couple circles on the page. Last, I added some splatters on the page. Acrylic paint dries quickly.
Once the page is dry well, I started to stamp the sentiments from Totally Stamp Set and Happy Art Stamp Set, and I stamped the brush strokes images from Totally Stamp Set on the page with Black Archival Ink Pad. I added some shadow on the bold sentiment by stamping it again with Memento Rose Bud. Archival ink stays wet for a while, so be careful not smudge the stamped images.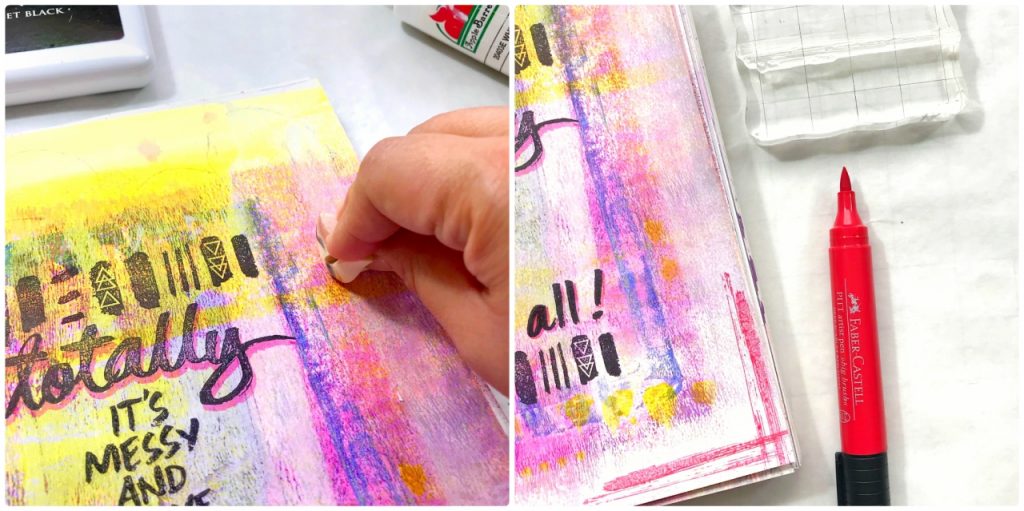 Using make up sponge, I added some white acrylic paint along the edges of the page. And then using Faber Caste Big Brush Stamper Pen, I stamped the other brush stroke image from Totally Stamp Set on the top left corner and bottom right corner. This brush pen dries permanent and works well on clear photopolymer stamps like Precious Remembrance stamps.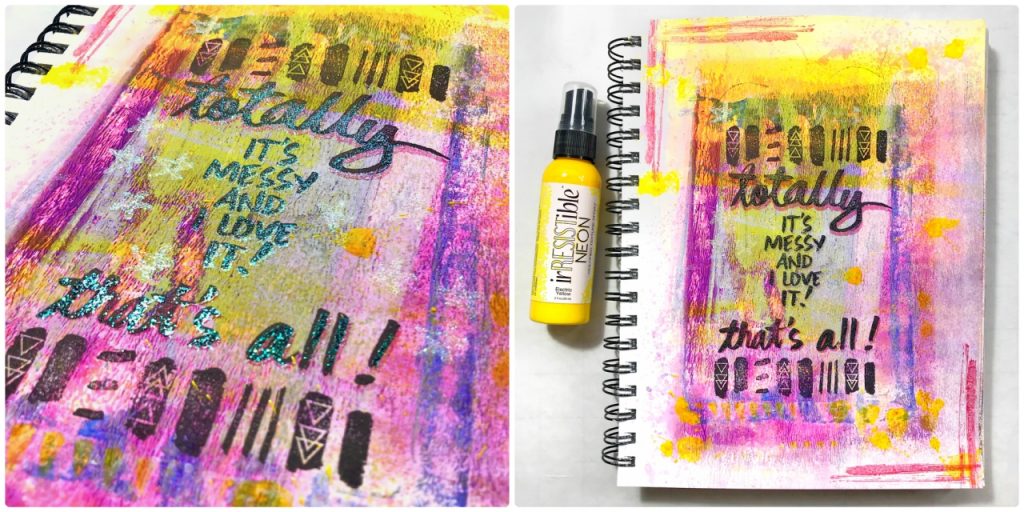 Remember that I told you that archival inks dries slowly? The quote on this page is still wet, so I sprinkled some of the clear glitter embossing powder on it and heat set it with my craft heater. Result is that now the quote is sparkly and shiny. I also I stamped some stars from the Totally Stamp Set with White archival ink, sprinkled with the clear glitter embossing powder, and heat set it.
Last step is that I randomly sprayed some of the irRessistible Neon Yellow spray. That finished my art journal 🙂
I hope you enjoy this post and are inspired to create today! Thank you so much for stopping by today. Have a fabulous day.