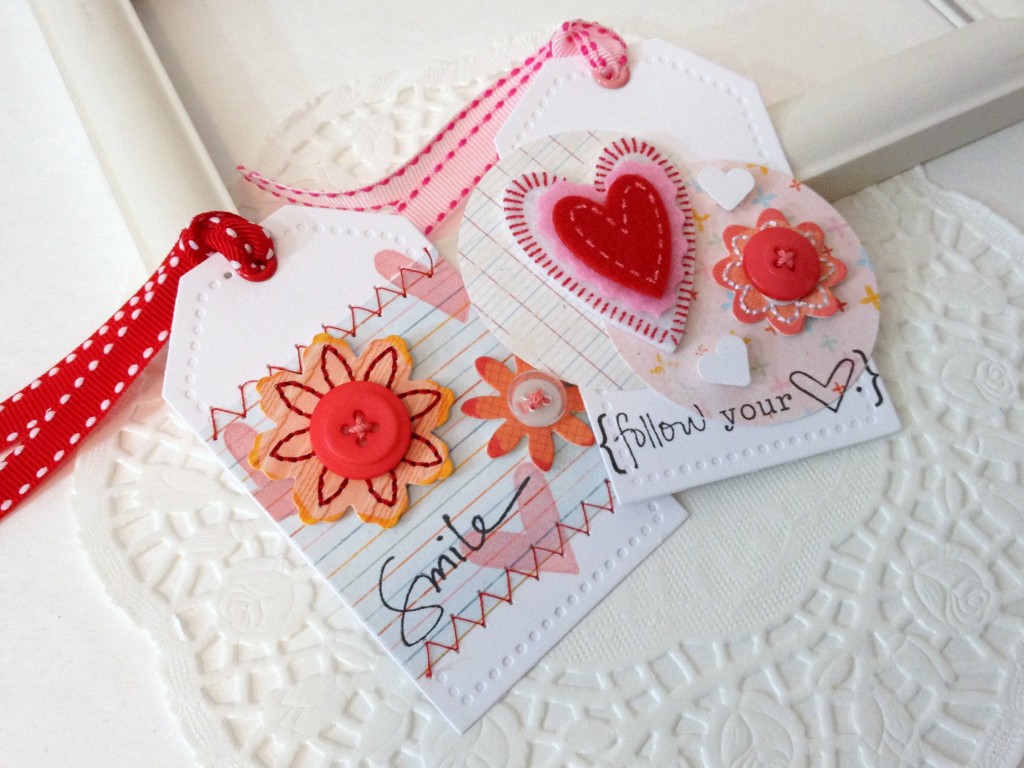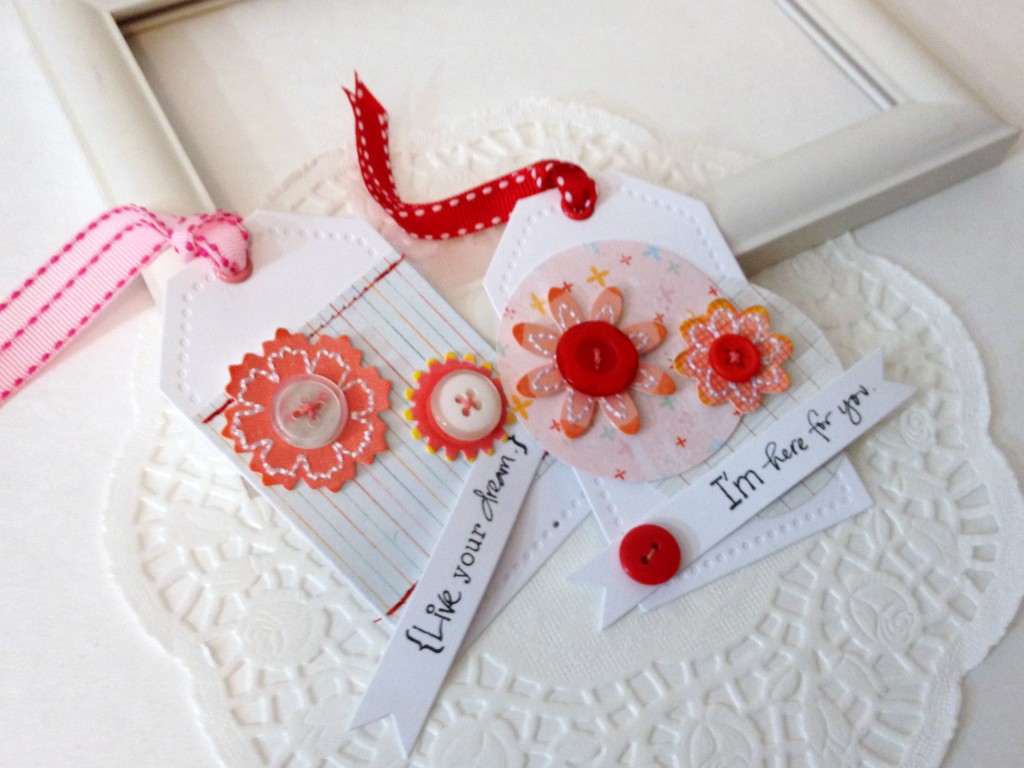 For this week's project, I chose do create one of my favorite things: gift tags! The Positive Thoughts Stamp Set works perfectly with the whimsical pink and white color scheme I chose, and I love how the typography resembles handwriting.
I started off by die-cutting the tag base using Papertrey Ink's Tag Sale #3 die. I've used this die countless times and find it to be the perfect size and shape, plus, the embossed border adds an elegant touch. I added a We R Memory Keepers eyelet (great quality eyelets and very easy to set) to the top of each tag and strung about 6 inches of grosgrain ribbon through.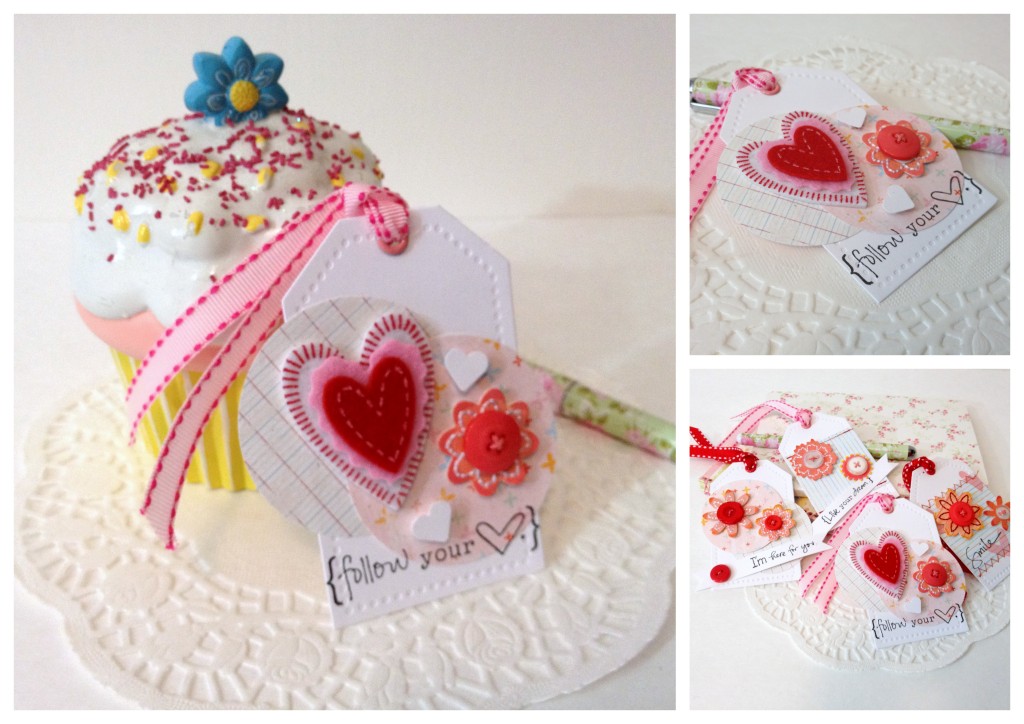 Now, for the actual scrapping and stamping! I started off looking through my scrap pile and picked out some papers that I had left over from another project. All the paper used is from the My Mind's Eye Everyday Flair 6 x 6 paper pad. I punched out some circles and did a bit of machine stitching to create the background. At this point, I knew I wanted to stick with reds, pinks and corals for my color scheme, but I had no idea what type of embellishments to add! I spotted some floral embellishments by Sassafras in my craft drawer that I had been holding onto for a while. Please tell me I'm not the only one who "saves" embellishments, and then feels guilty for not using them. Well, I'm really glad I put these to use!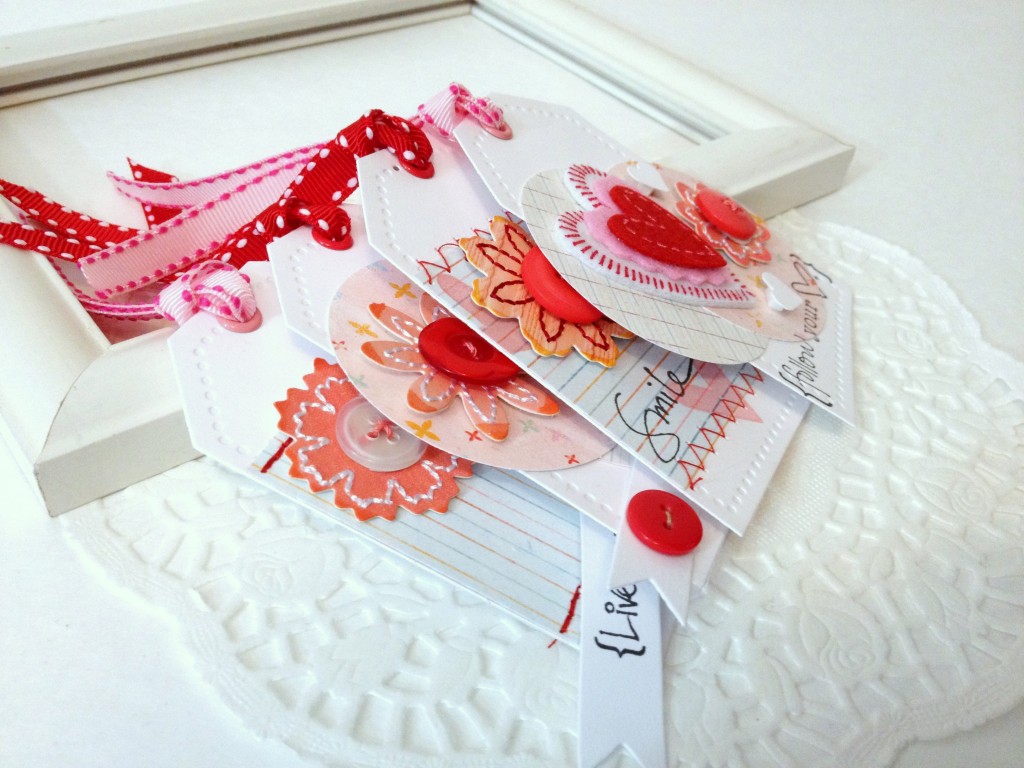 The Positive Thoughts stamp set worked incredibly well with this project. The sentiments are inspiring yet lighthearted, which works well with the muted pink colors and floral embellishments. I used Papertrey Ink's Double Ended Banner Die to create the banner strips that I used for two of the sentiments. The final result is a set of layered, three-dimensional tags which I think these would be great to package a spring or summer birthday gift. Also, they look a bit like Valentines and if I don't find a way to put them to use anytime soon, these tags will be making a reappearance in February!