Hello again, PR fans!  Geri, here, with my last chance to show off the Oh So Fun set.  I chose to  focus on a couple of the sentiments this time, and wanted to try a technique I've been inspired by recently…stamping with our acrylic blocks.  Have you tried it???  It's lots of fun to see how the colors mix!  I used my smallest rectangular block…inked the whole thing up with some Tim Holtz Tumbled Glass distress ink (a pale aqua blue), and then added a deep violet and deep blue to the opposing corners/edges of the block.  Next, I gave it a generous spritzing of water.  (If you don't spritz enough, it's hard to get the complete shape of the block with all four clean edges and corners.)  When you stamp the block onto your paper, you can see the watery ink spreading underneath it and can apply extra pressure where ever you see dry/empty spaces.  I allowed mine to air dry…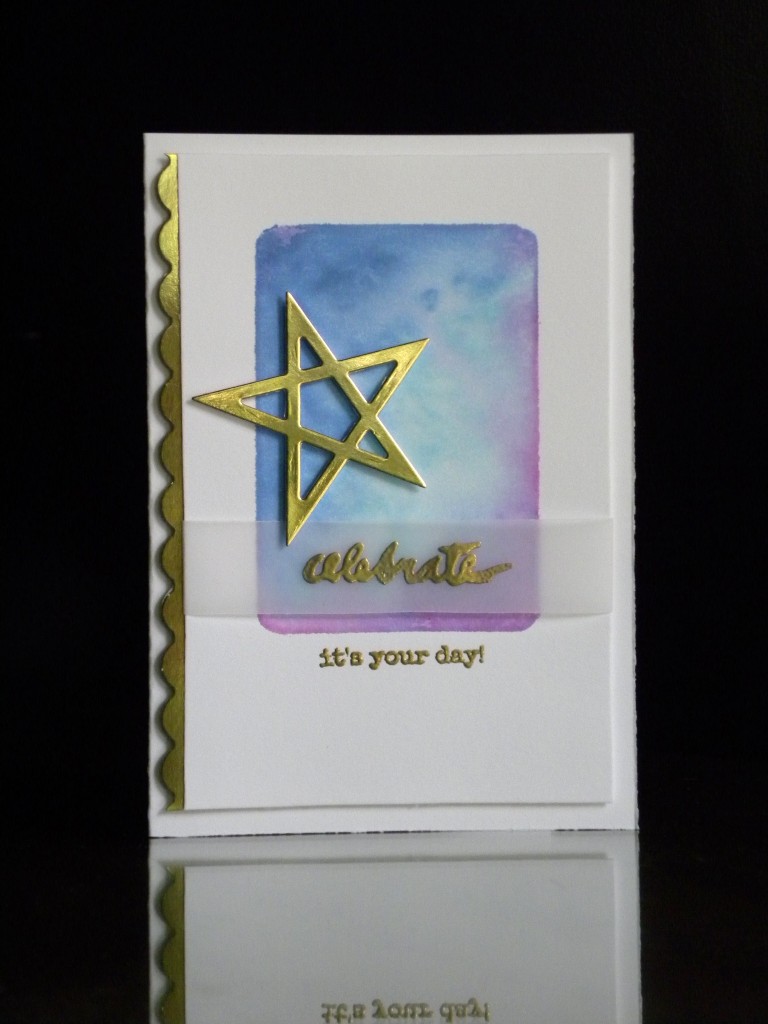 You can see that I did some gold embossing on vellum with the 'celebrate' sentiment, and embossed again with 'it's your day' underneath the block image.  I like how the open star die cut and the vellum allow the pretty backdrop to shine through.
This is a really fun technique that I'll be trying again!  Don't know what took me so long!!!  Hope you've been inspired to give it a try, too!  There are lots of great PR sets in the shop that would look great with it!
Thanks so much for stopping in today!