Hello again, everyone!  Missy here with my final layout as Guest Designer.  For this layout, I decided to create my own patterned paper background using one of the stamps from the Totally Stamp Set.  I love the fun stacked brush stroke stamp, and I used it on white cardstock in a vertical pattern.  I used Archival Ink to stamp it down the page.  I did coat my cardstock with gesso first since I knew I wanted to add some watercolor over the stamping.  I rarely use smooth cardstock, so when I stamp on the textured cardstock, you can really see it through the ink.  I love that distressed look it gives!  Once I decided on my photo, I started in with the watercolors.  I did use some spray inks, but I also used some distress inks.  I dabbed them onto some plastic packaging, added a little spray of water and smushed it down.  My photo contains all the ink colors, so I thought it matched perfectly.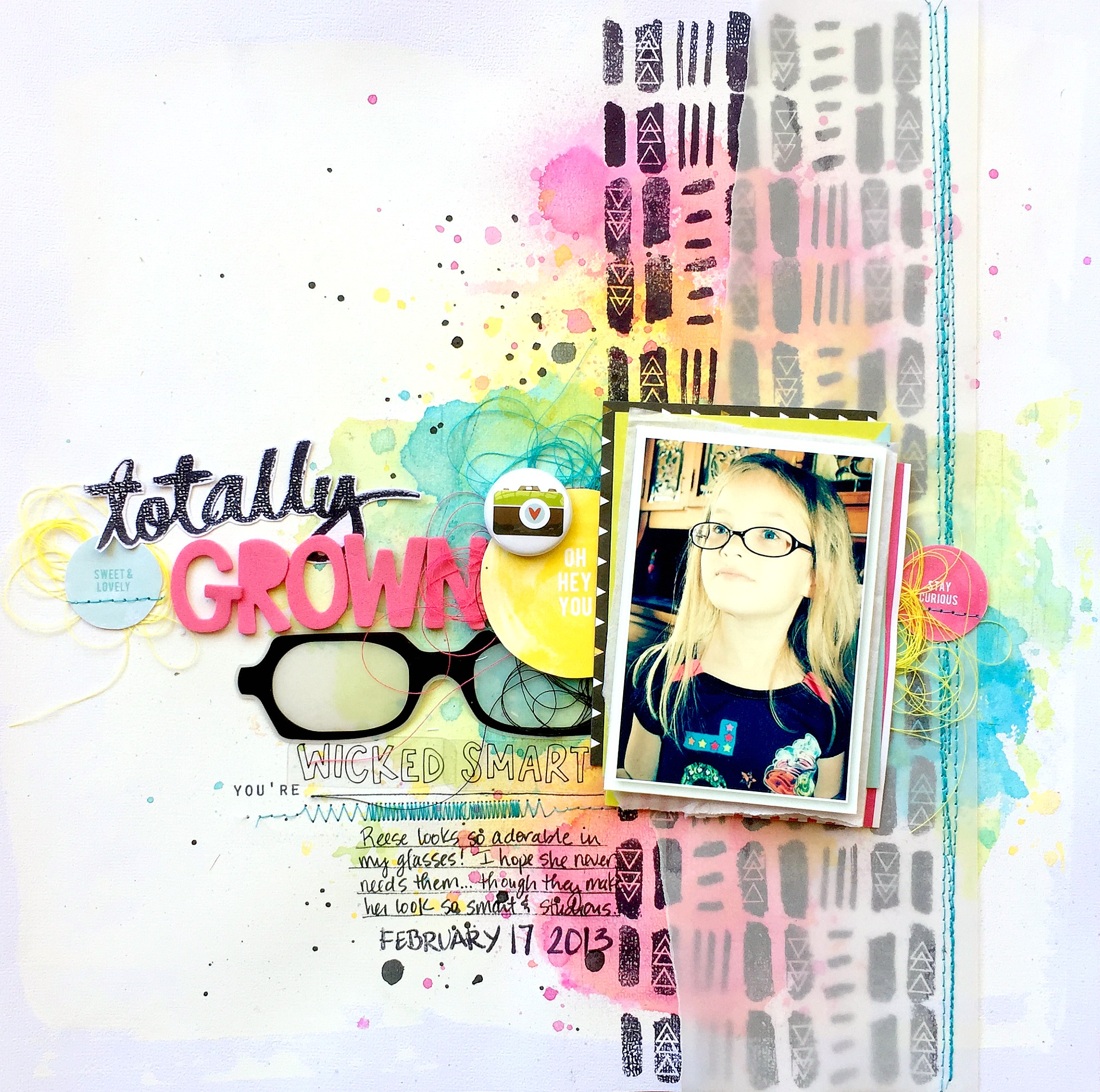 I just love these bright and bold colors!  Once the background was done and I added my photo, I thought everything was a tad bit busy and it sort of drowned out my photo.  When this happens, I like to soften up the busy parts by using vellum.  I just tore a strip and sewed it down over a good portion of the stamped design.  It's still very visible, but it's toned down enough that it allows the photo to shine.  Here up close you can really see the texture through the stamp.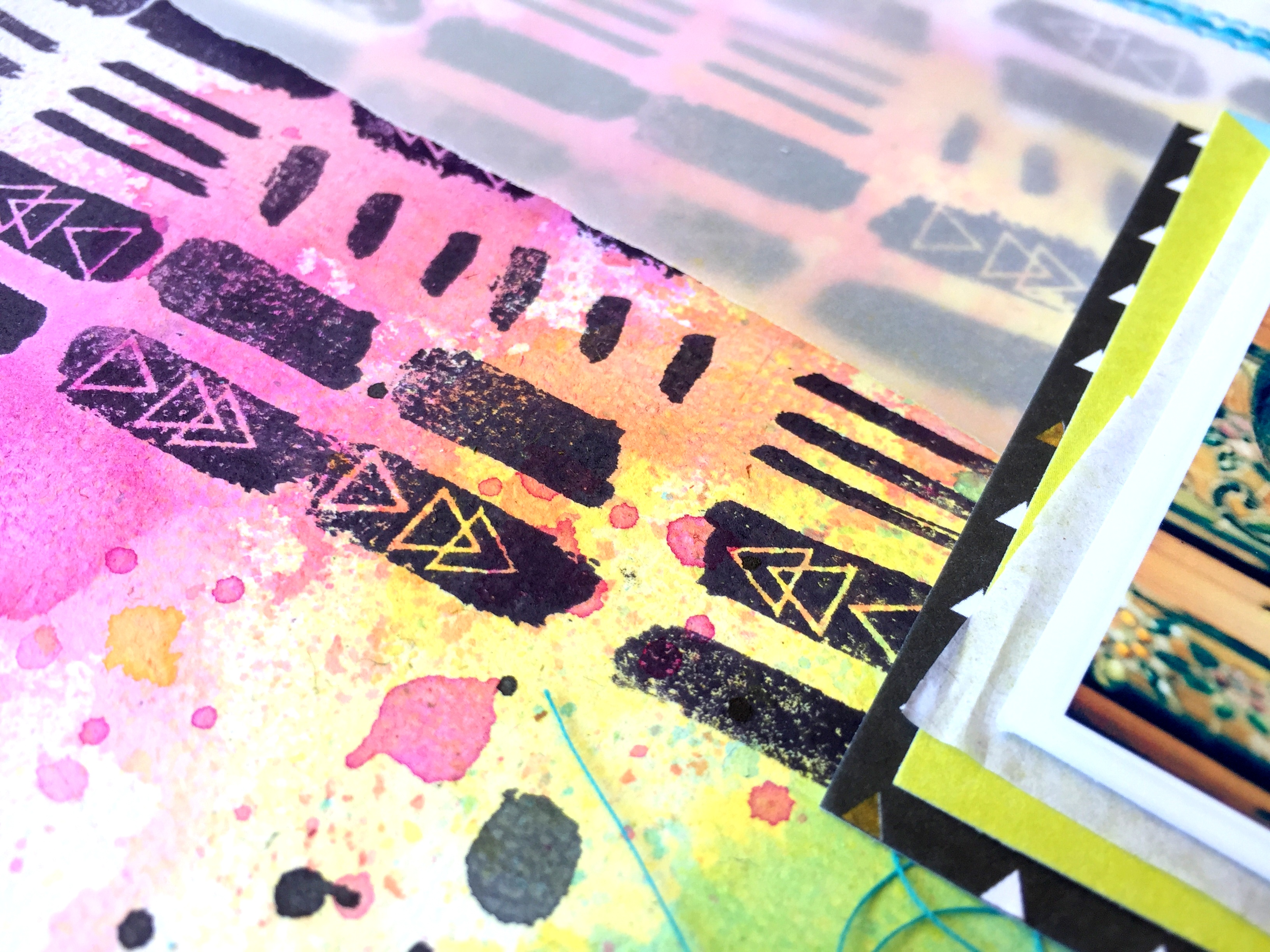 I used another stamp from the same set for my title.  I stamped "totally" on some scrap paper and fussy cut it out.  This is a great thing to do if you're unsure about stamping directly onto your background.  By cutting it out like this I can move it wherever I want without it being permanent.  I paired this with some older hot pink Thickers.  Since my daughter is wearing my glasses in the photo, I thought this was a good title since she does look so grown up.  I fussy cut a few circles from a Paige Evans Fancy Free paper, and on this one I added some tangled thread and then stitched through it.  Those fun glasses are from a sticker sheet I've had in my stash for a while now.  I stuck it to some vellum first and then cut it out.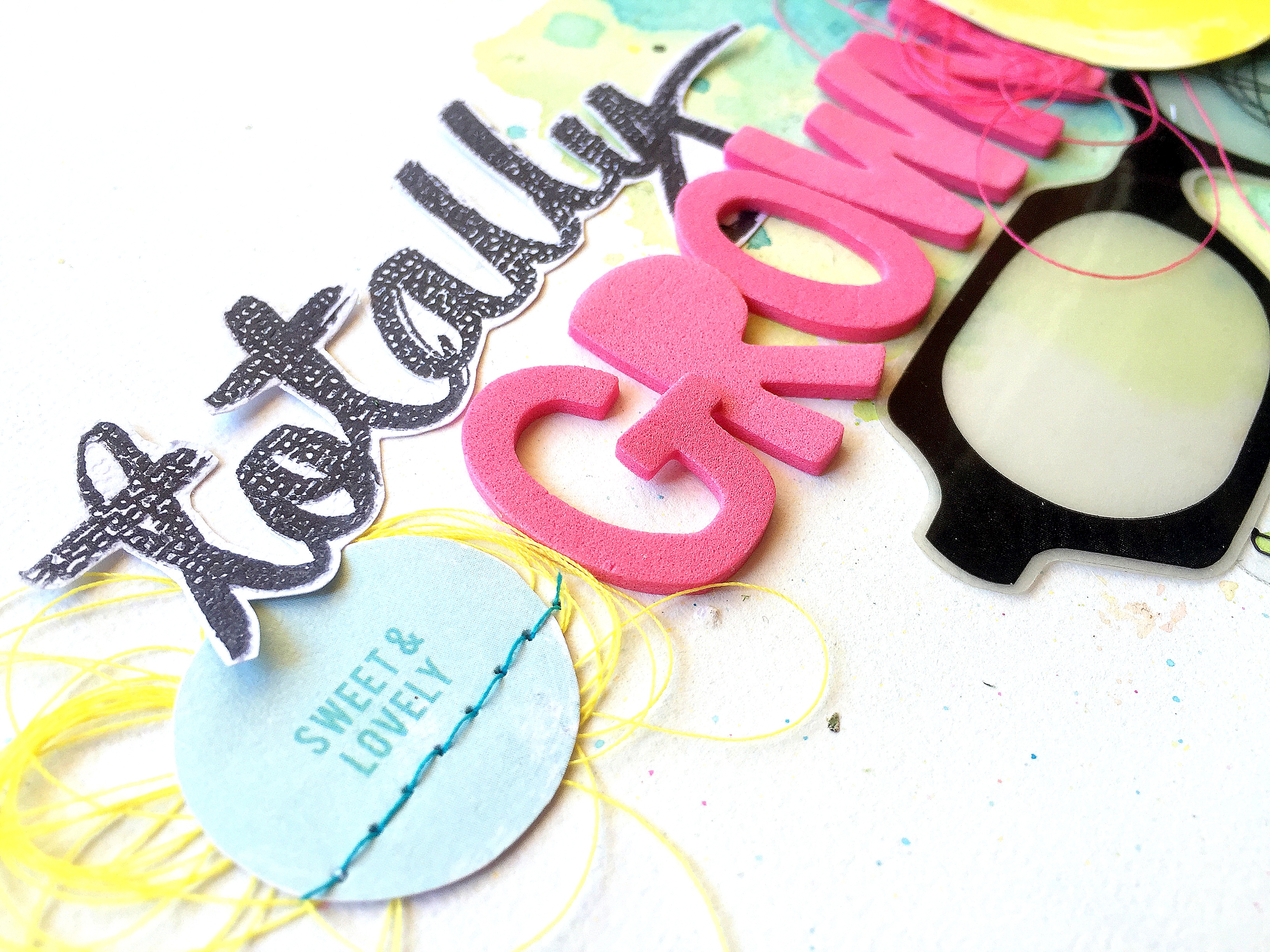 I used the Date Stamp Set here to create the date under my journaling.  I love that it has all the months and days of the year as well as all the numbers.  Here I also did more machine stitching in bright blue, and I added another "fill in the blank" type stamp from the Totally Set.  I used a clear Amy Tangerine sticker that says "wicked smart" with it.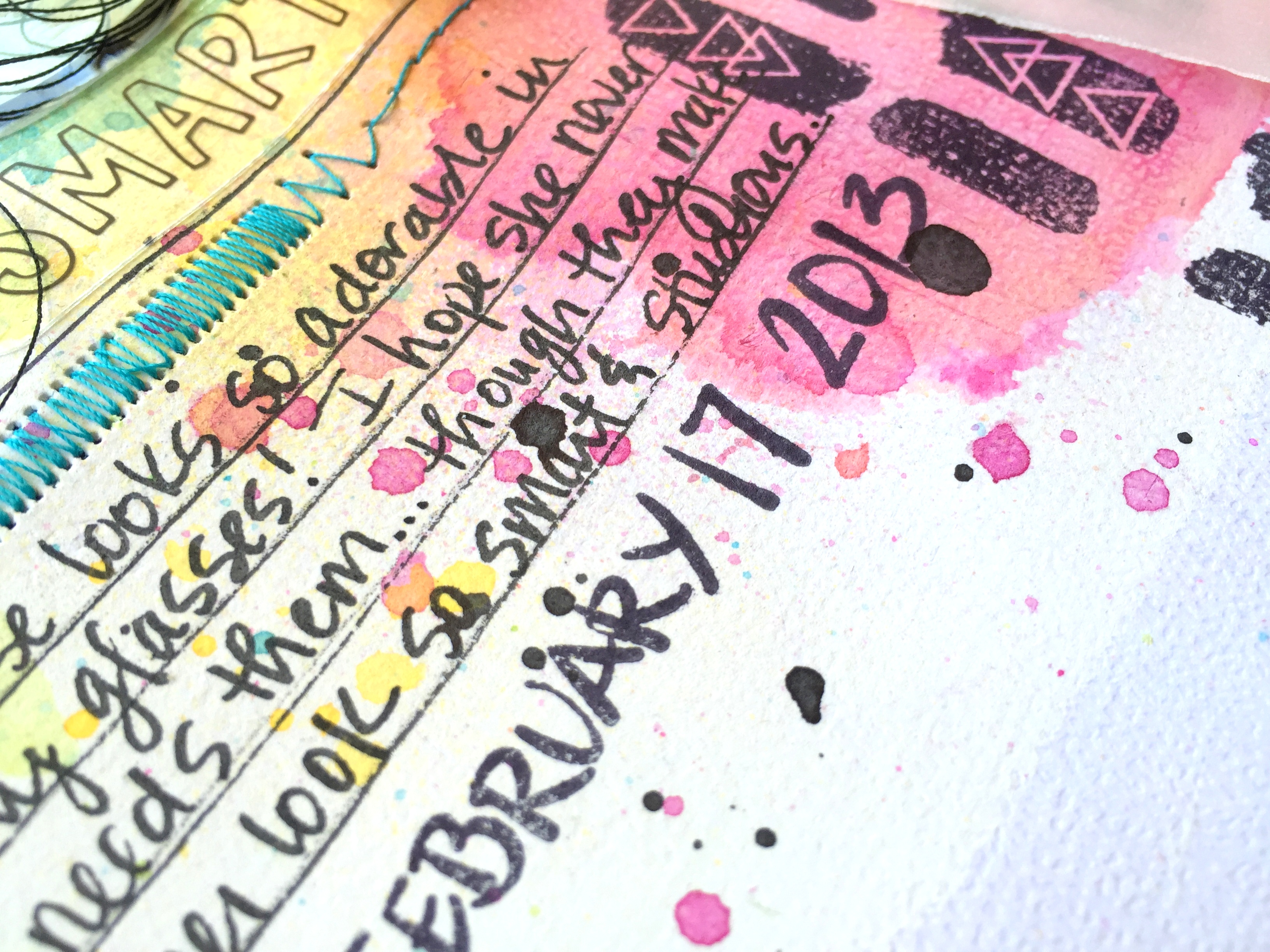 Here's another look at the mixed media and stamping work.  I really do love how this turned out!  To the left of my photo, I added another fussy cut Fancy Free circle, some bright blue tangled thread and a flair button.  I used a few Me & My Big Ideas Project Life cards as layers behind the photo.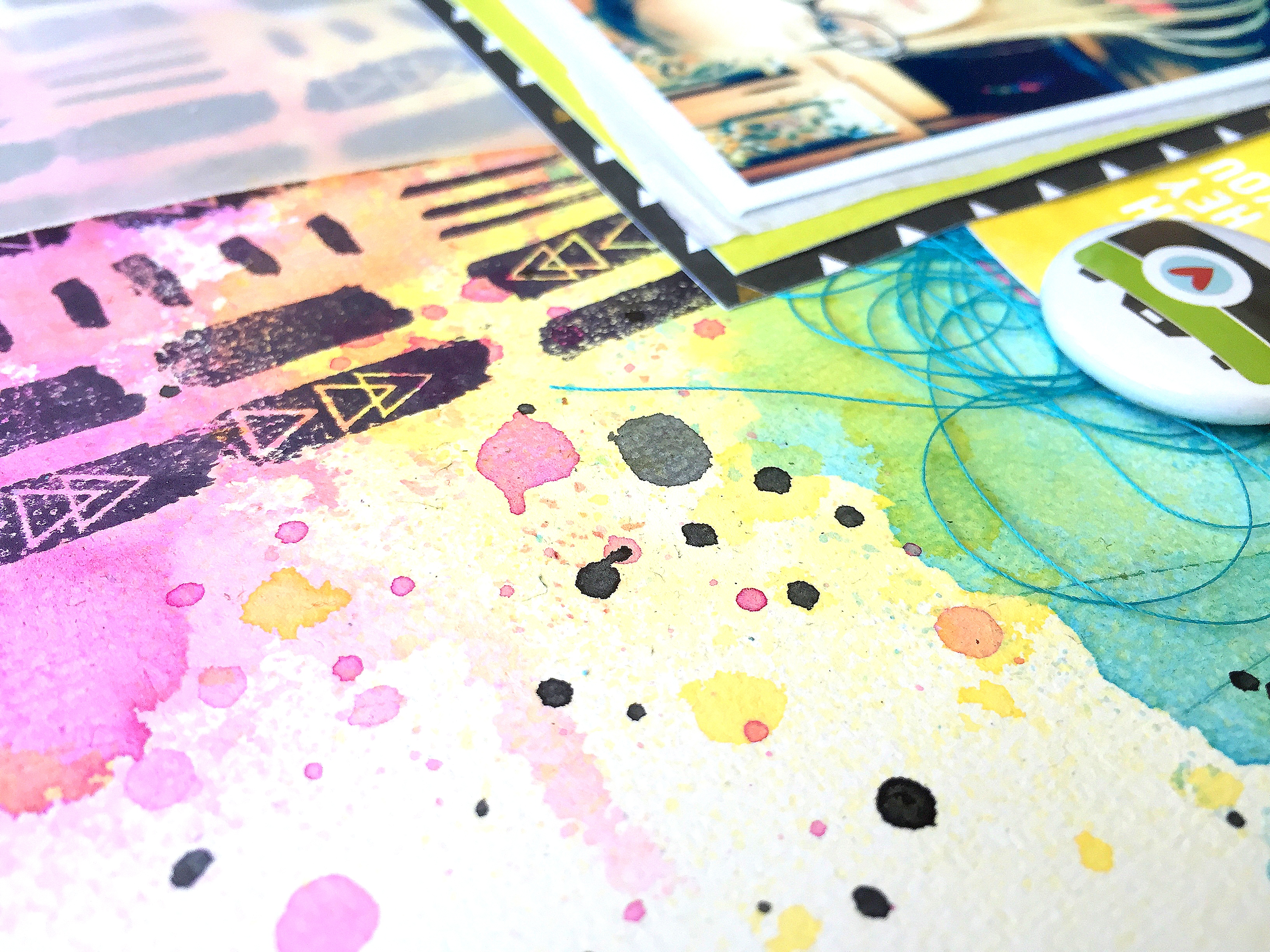 Here's one more close-up of the stamping.  You can see how awesome vellum is and what it does for the layout.  It's easy to stitch through, and it just softens everything up.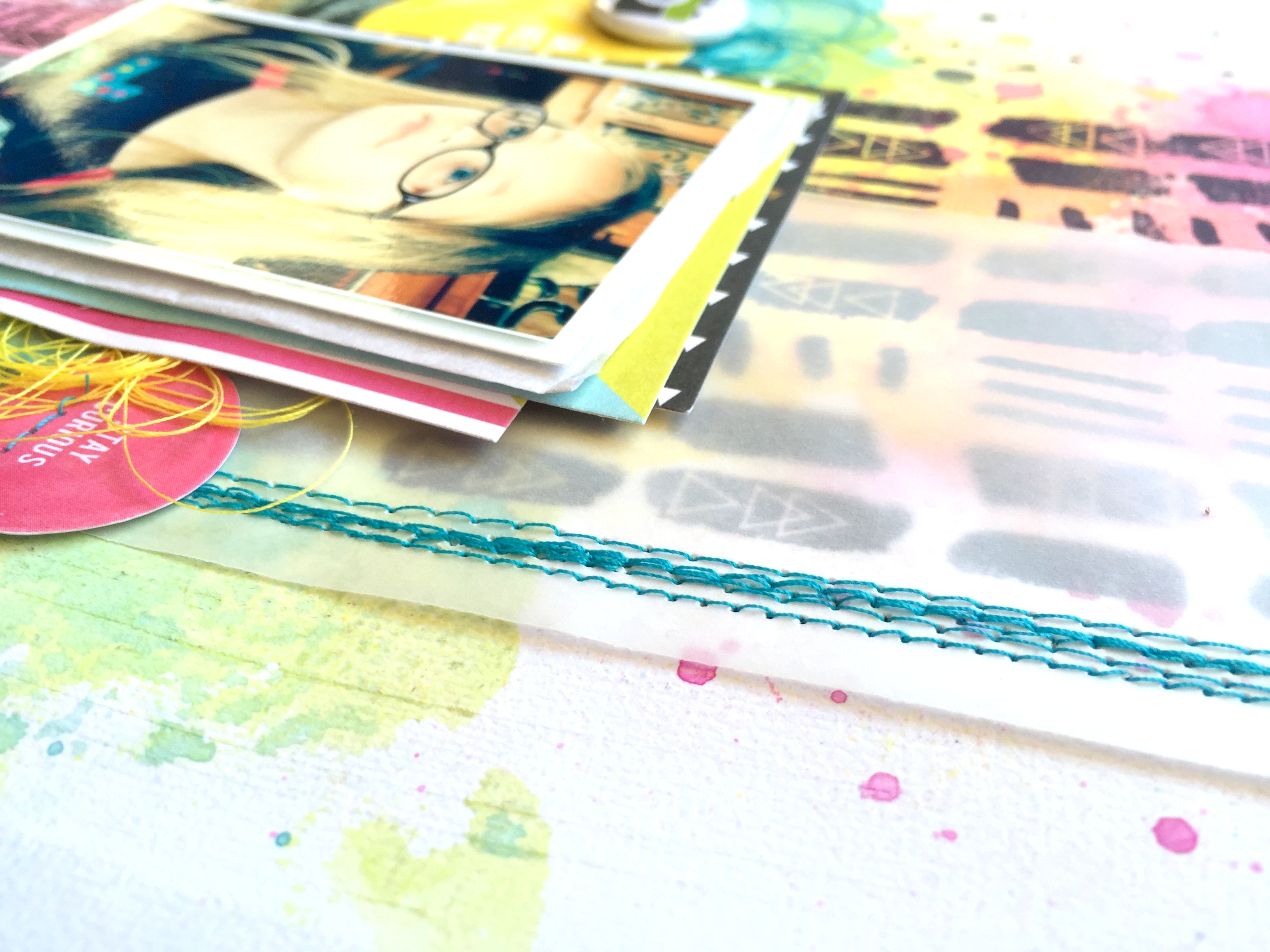 I have a process video if you'd like to see how this layout came together.  I hope you like it, and I hope you gained some inspiration from it!
Thanks so much for stopping by, and thank you so much to Dyane and company for having me!  I've had a blast creating with these incredible stamps!