Hey there, friends!  Missy here, and I have a new layout to share today.  I decided to create a back-to-school layout since my sweet girls went back last week.  These photos are from a few years ago, and I finally scrapped them!  They weren't too thrilled with me taking their photo…can you tell?  Haha!  I was inspired by that adorable school bus stamp from the School Days Stamp Set.  I made an embellishment from it and then worked my page around it.  I also used stamps from the Journey Stamp Set and Sketchy Alphabet Stamp Set.  I love creating backgrounds on white cardstock, so I did that  and then used the stamps as embellishments and part of my title.  For the background, I scraped some blue and white acrylic paint with a palette knife.  I wanted a bit of texture, so I scraped some modeling paste over a circle stencil.  Once that dried, I used some blue ink sprays over it.  I chose blue because that color contrasted nicely with the photos since they didn't have a lot of blue in them.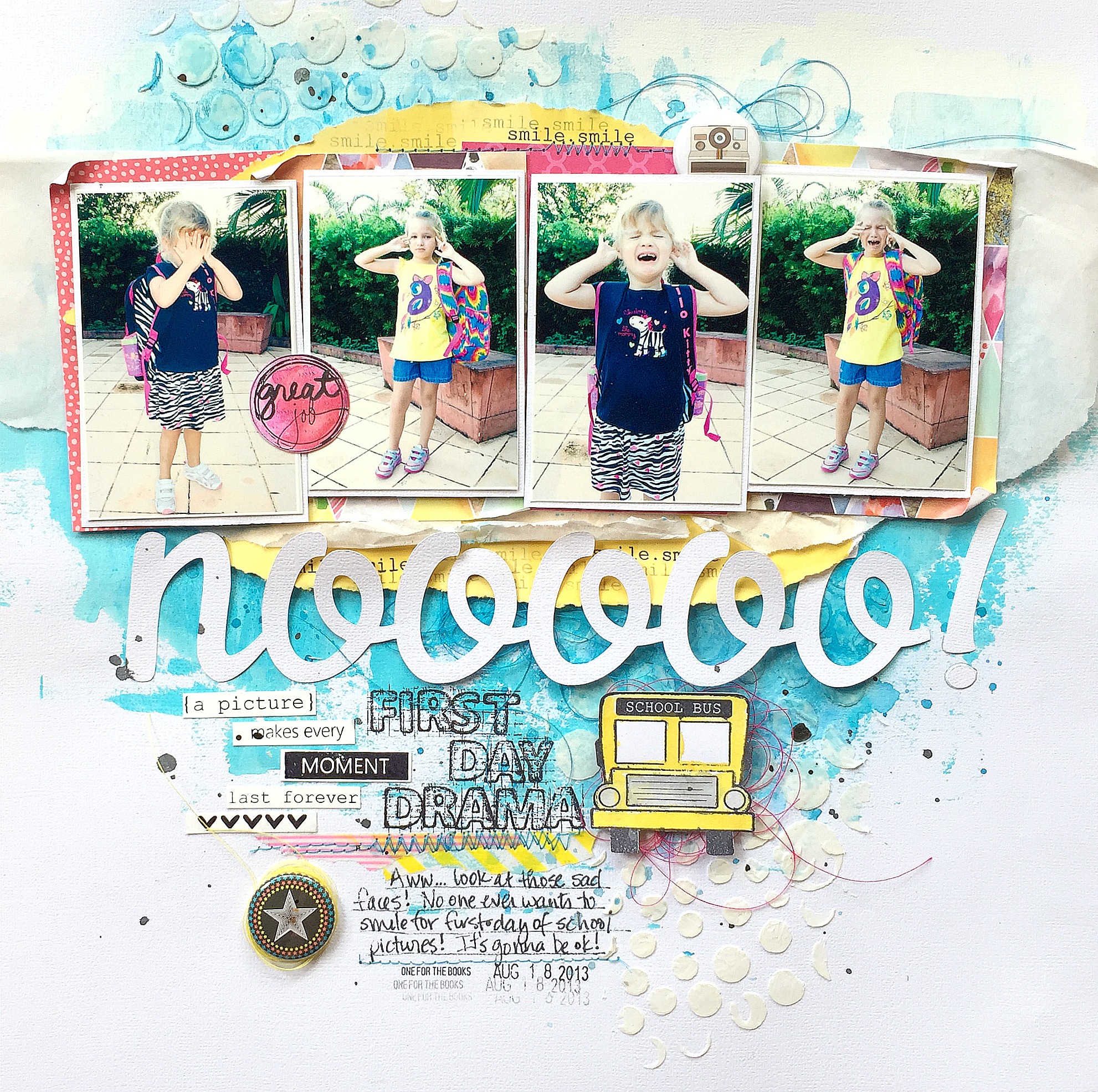 I stamped the school bus on some white textured cardstock.  You can get different looks with textured vs. smooth cardstock.  I like both, and I wanted the bus to look a little bumpy and messy.  I used some watercolors to add color and then cut it out.  I added some foam under it as well as some tangled thread to create dimension.  Here you can see the cool texture from the paste.  I cut the big title on my Cameo using white cardstock.  I used the Watermelon font and stretched it across the page.  It says exactly what my kids were saying…haha!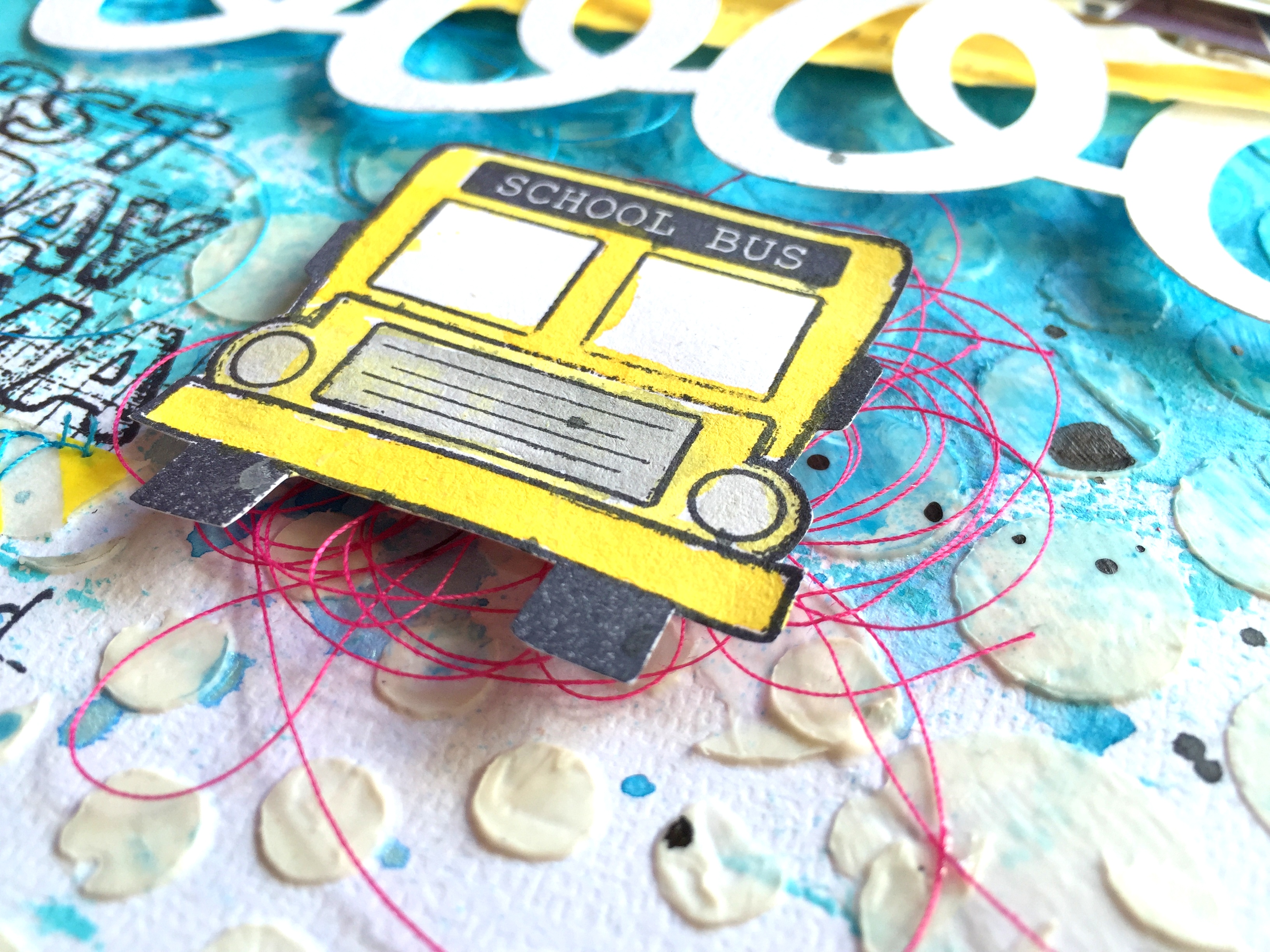 I love how this area turned out.  I drew a few lines with a pencil and then used the Sketchy Alphabet Stamp Set to finish the title.  The strips to the left are from a Journey Stamp Set stamp.  I just cut into strips and glued them down to make them look typed.  You don't always have to use stamps as they are.  Think outside the box and create your own look with them!  Don't be afraid to stamp them on some scrap paper and cut them out.  I used a white piece of packaging from some stickers for that, and it turned out very smooth.  You can see the difference between how that looks and how the bus looks.  Two different kinds of paper gives you a different look.  I added a bit of washi tape down in this area and machine stitched over it.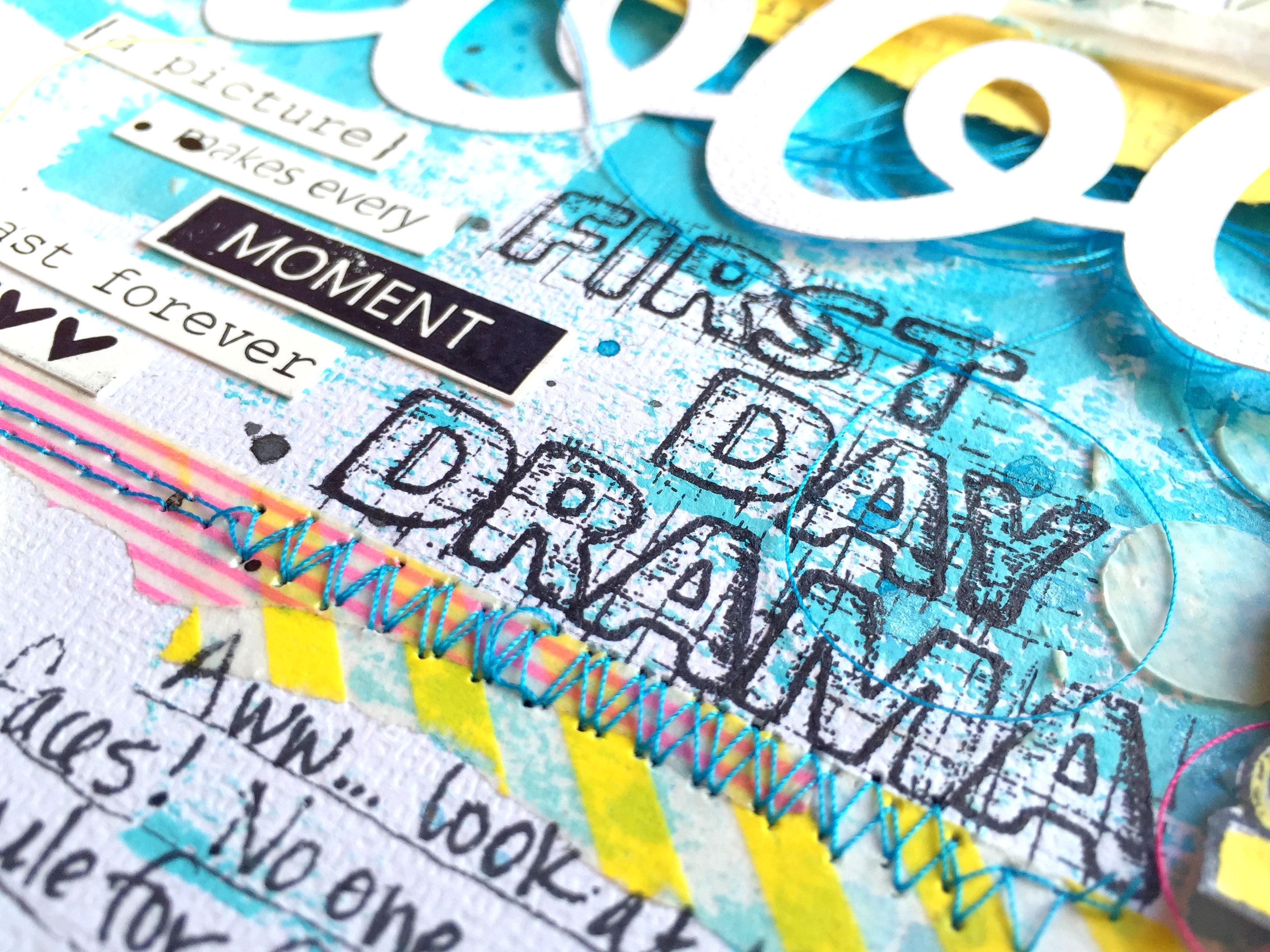 I decided to be a bit sarcastic up at the top with the "smile" stamp from the Journey Set.  I've learned to just take the photo regardless if my kids are smiling, and I'm glad I did on this day!  Smiles or not, it's a memory I don't want to forget.  I stamped it a few times to create a dark to light effect.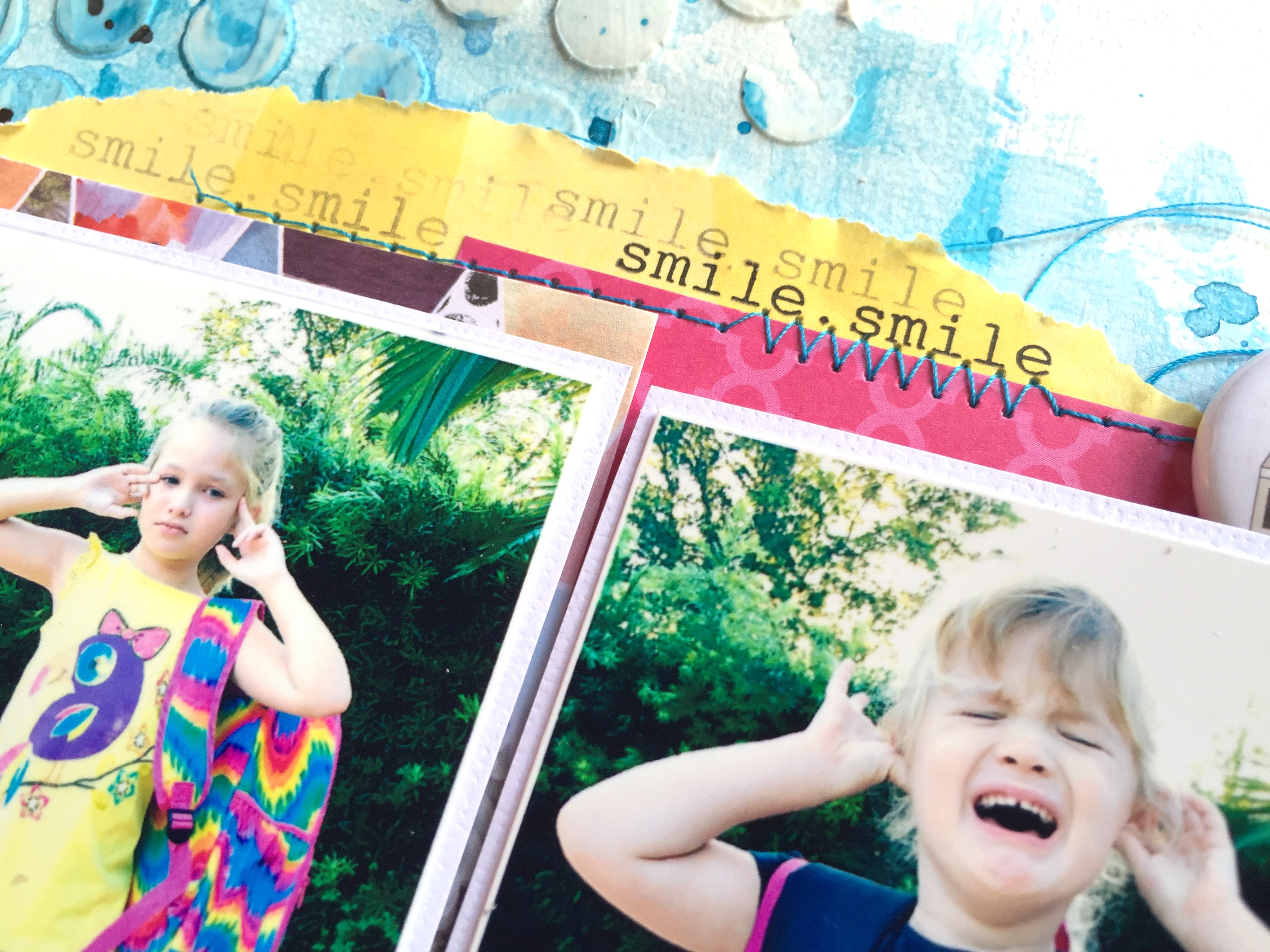 I used a few Me & My Big Ideas 3×4 cards as layers here as well as Simple Stories patterned paper.  I added one more stamp right on top of the photos here.  It's from the School Days Stamp Set, and I stamped it on white packaging.  I cut it out and used some pink ink spray and a gelato to color it.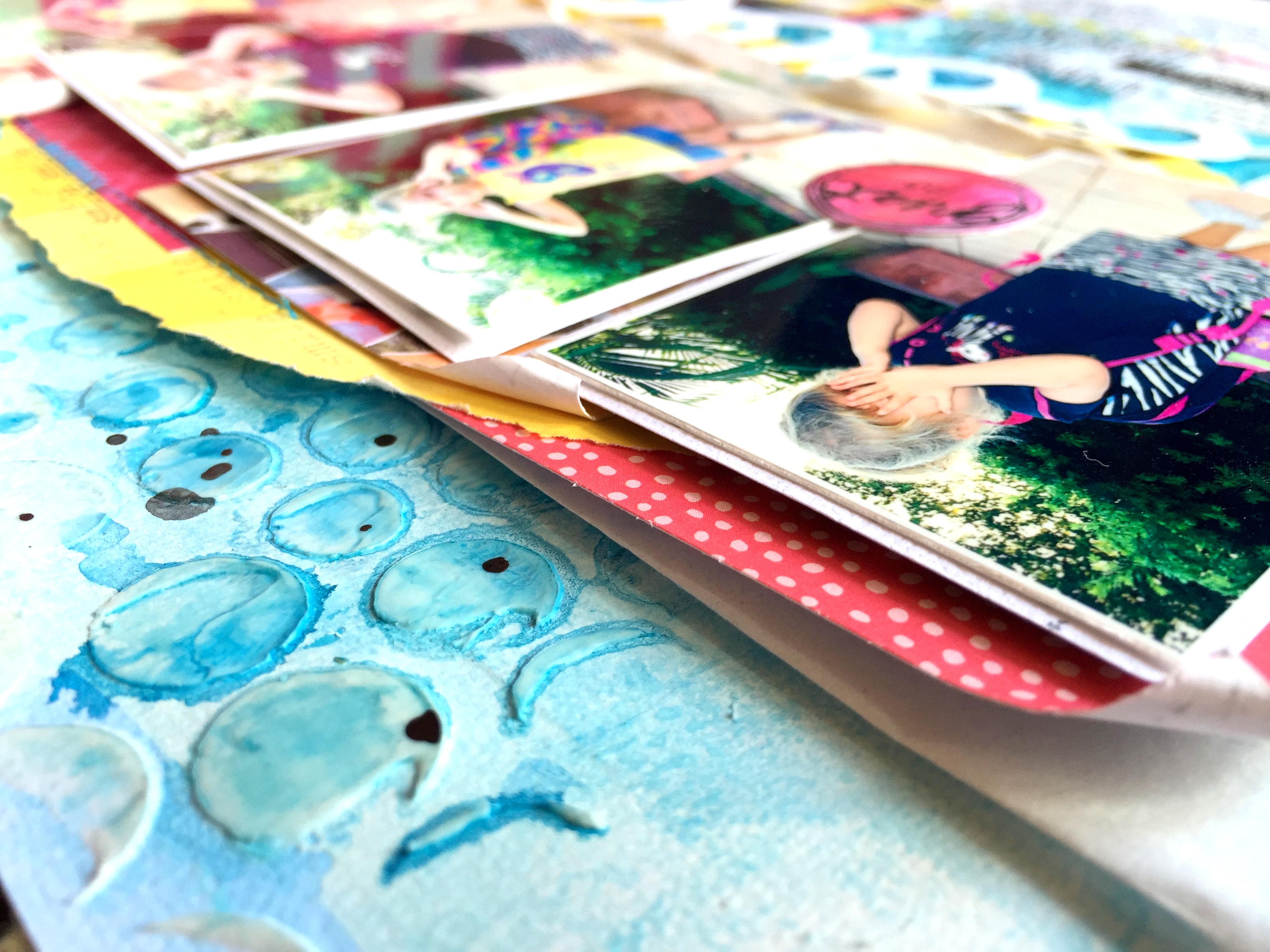 I hope this gives you some fun ideas to try with your stamps!  Remember to really study them and think of interesting ways you can use them.  I have a process video here if you'd like to see how I put this layout together.
Thanks so much for stopping by!