Hello again, friends!  Missy here, and I have a new layout to share today combining two stamp sets and some of the new stickers and die cuts available in the shop.  I always look through my stamps and see what inspires me at the moment.  For this page, I began with my photos.  They're of my girls about to ride our 4-wheeler, so I wanted to create a messy and somewhat muddy layout to showcase them.  I knew the scribble stamp from the Happy Art Stamp Set would be perfect, so I chose that to use on my background.  I also used a sentiment from the New Day Stamp Set.  I incorporated some of the new Coffee Love Stickers and Journey Bits & Pieces on the page as well.  The pink in those helped me with my color scheme.  I didn't use any patterned paper on this layout, and it was a lot of fun to just use stamps and embellishments along with watercolors and sprays.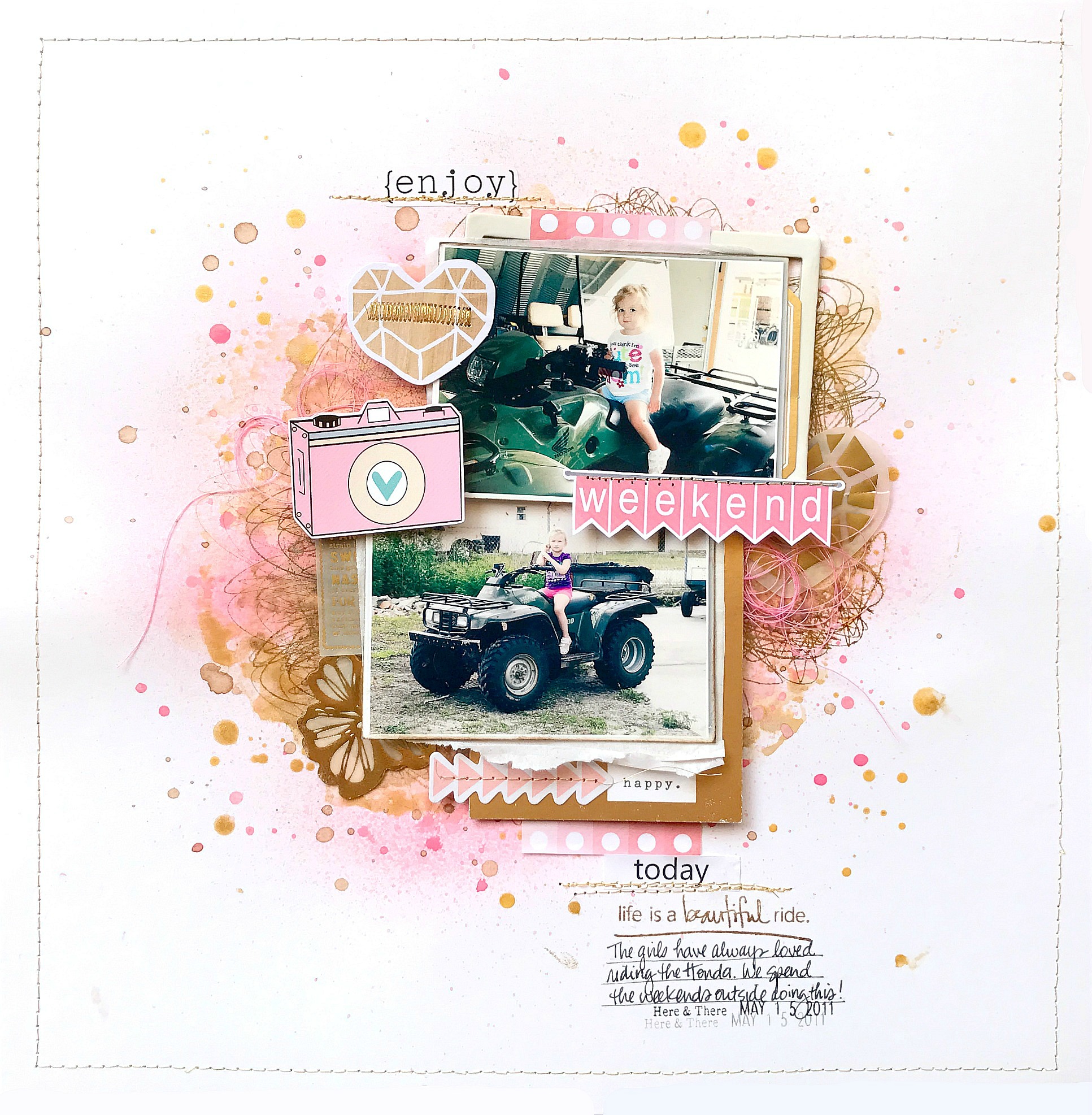 I absolutely adore this scribble stamp.  It's perfect for so many things, and it symbolizes mess and dirty for this page.  I used a thick smooth cardstock without any gesso.  I used some brown distress inks as well as some Heidi Swapp Gold Color Shine and some Shimmerz.  I thought adding some pink would add a feminine touch to the brown splotches.  My title is one of the stickers, and I simply adhered it to some cardstock and then cut it out so I could move it around.  I glued it to my photo and then machine stitched through it with gold thread.  A lot of the gold embellishments around the page are from my Crate Paper stash.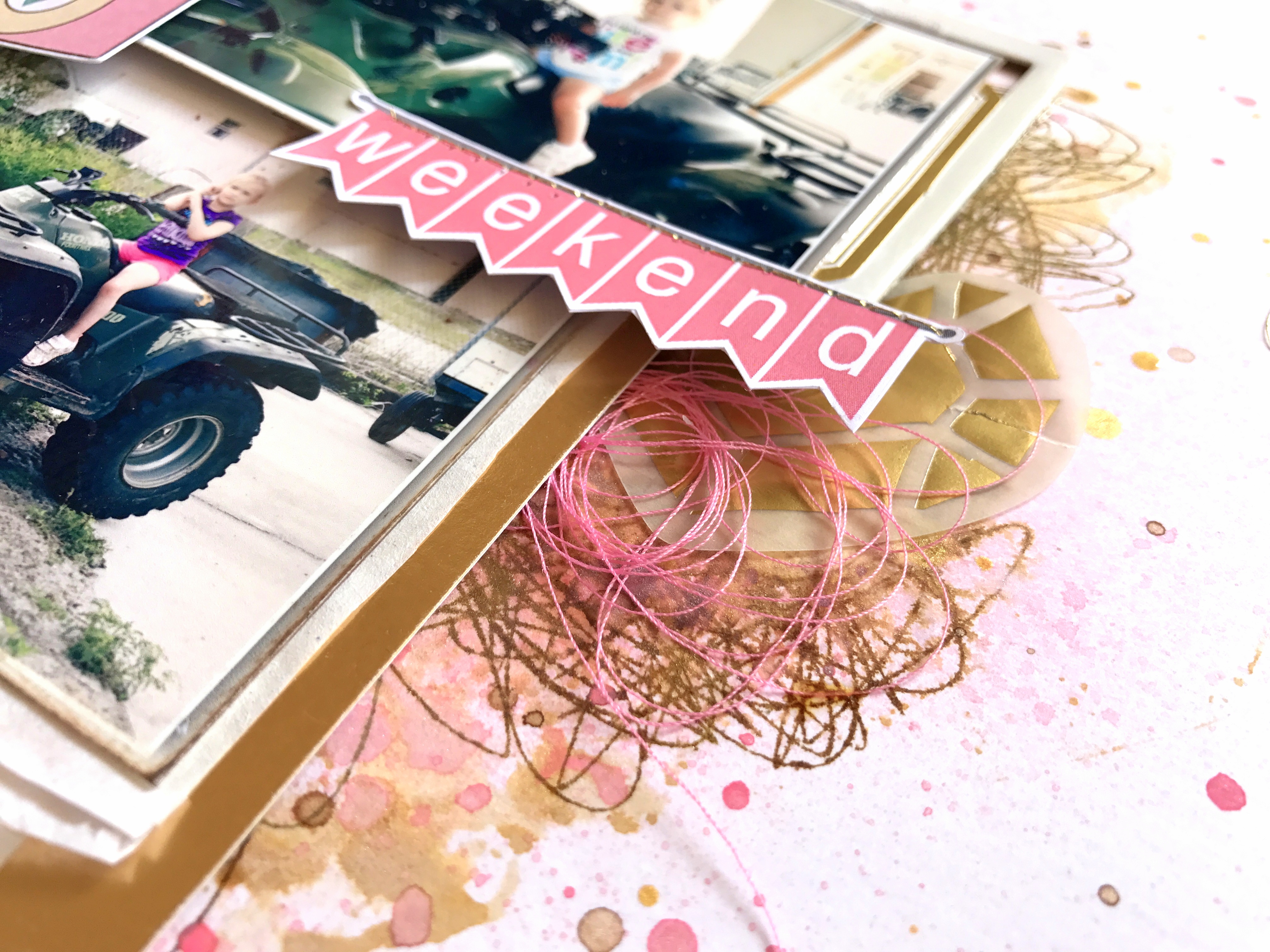 Here are a few of the fun stickers.  These are perfect for planners, but I like the challenge of making them work on a layout.  I used them as layers and smaller subtitles.  Here is where I used the New Day Stamp Set.  This quote was just right for these photos.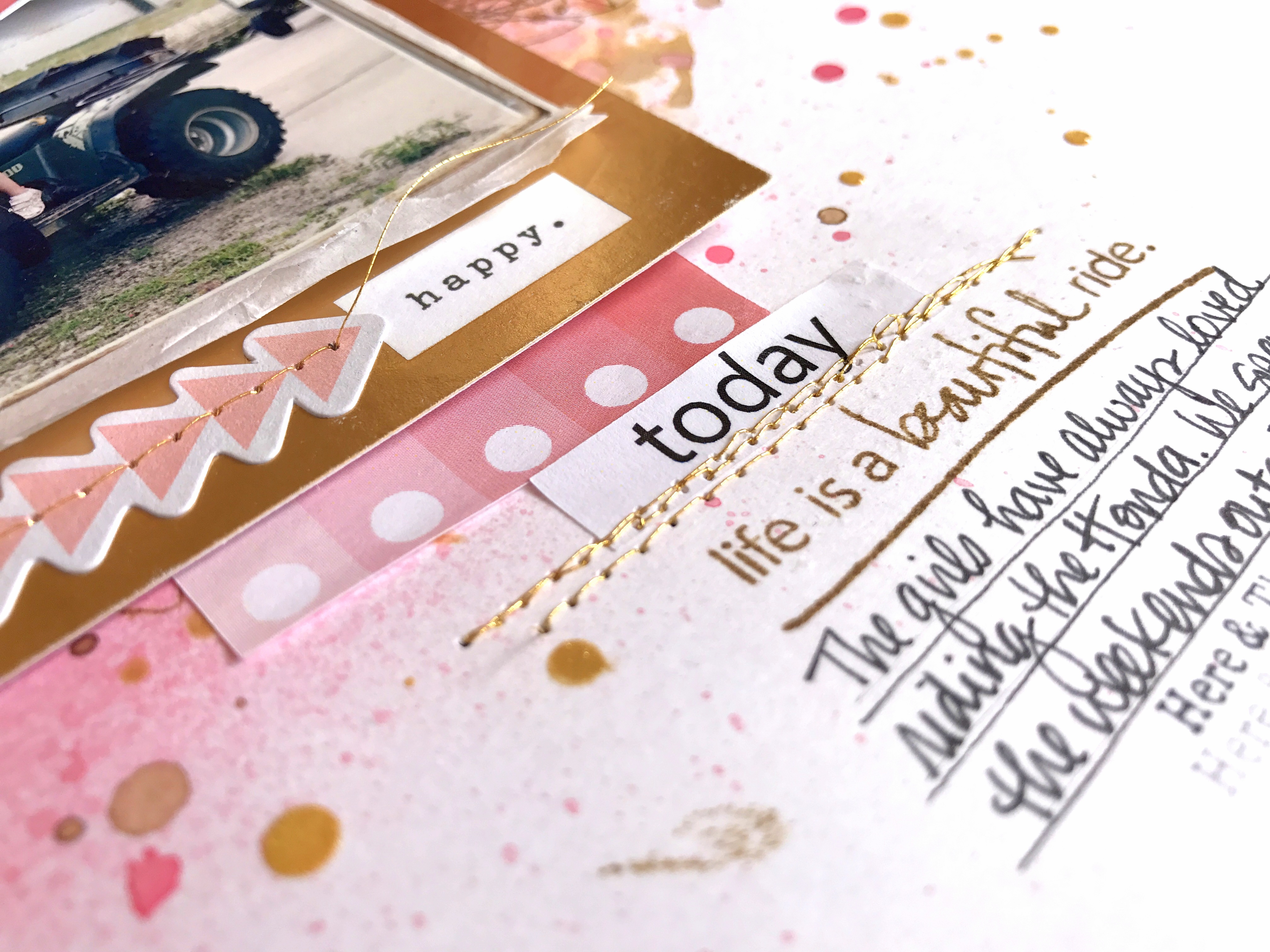 I really love how the pinks and browns look together.  I don't normally go for browns, but the pictures suited it.  I used one of the camera die cuts here available in the Journey Bits & Pieces.  There are three different sizes of these cameras!  Again, the other embellishments are from various Crate Paper collections.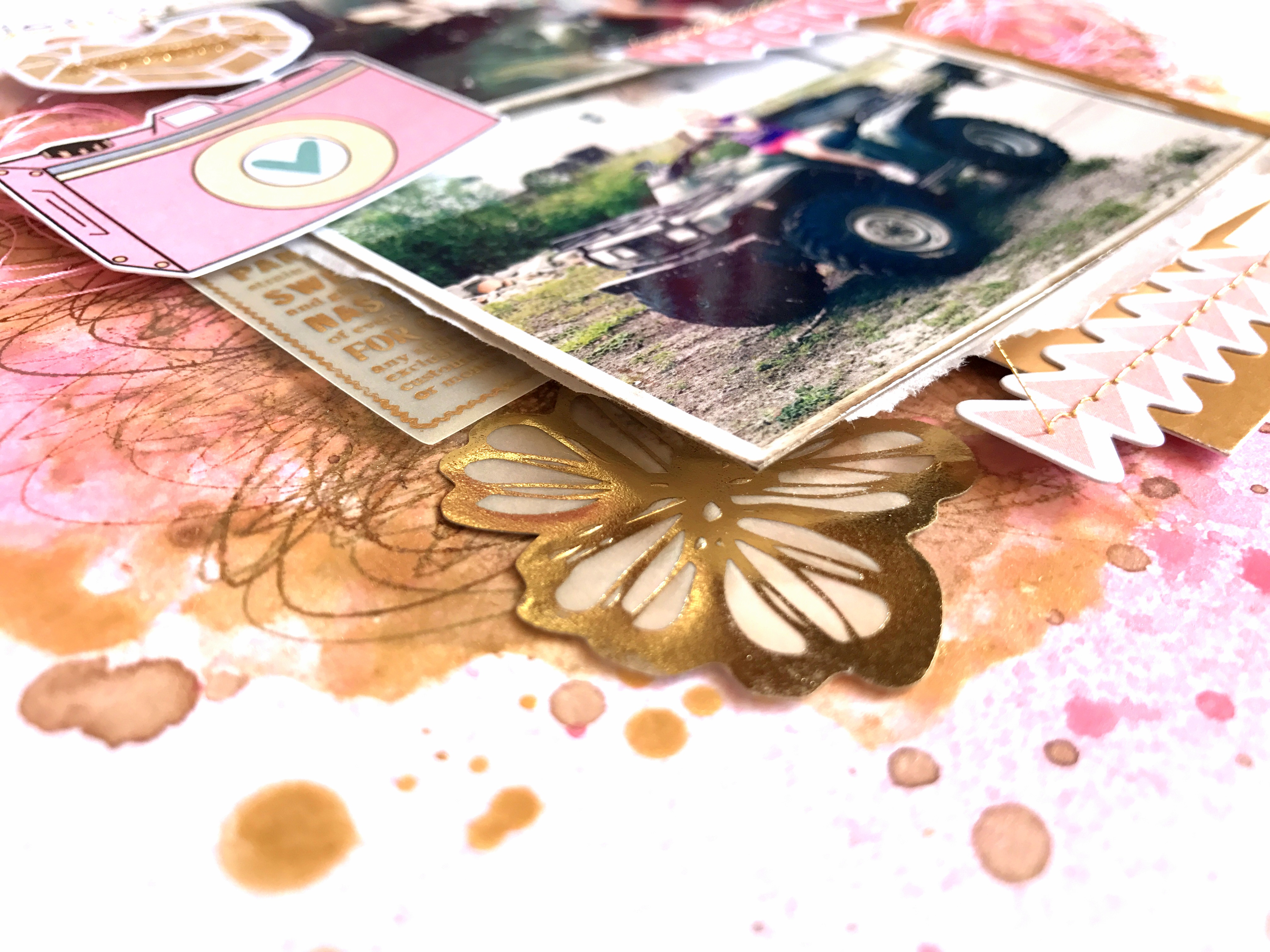 Here's a closer look at the camera and the background stamping.  Stamping doesn't always have to be front and center;  you can use them for subtle elements, too.  I did more machine stitching here to add more pops of shiny gold.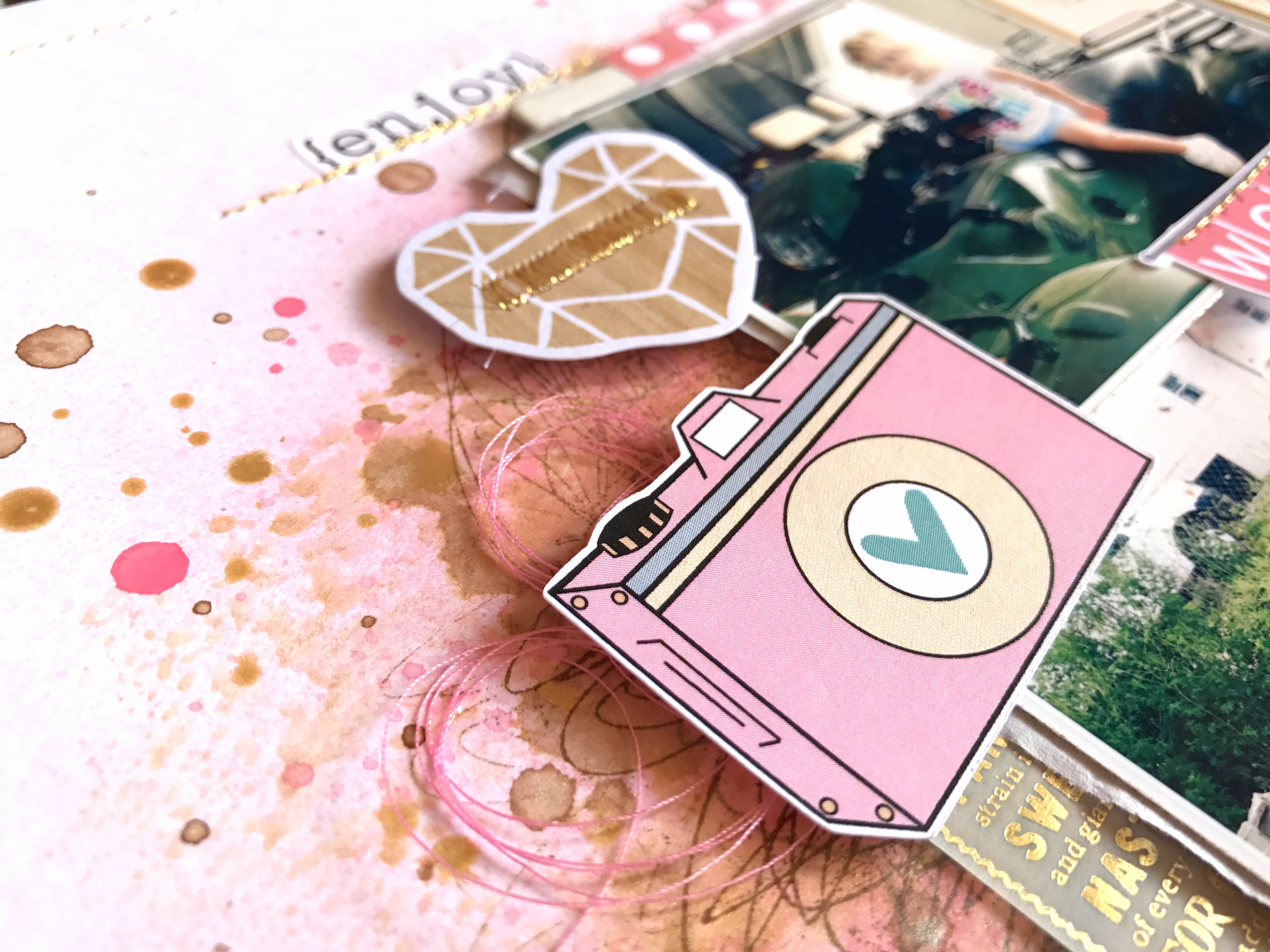 I hope this has inspired you in some way to create a fun layout using your stamps!  And be sure to check out the shop for all the new stickers and die cuts.  They're very versatile and can be used in so many ways.  Also, be sure to check out my process video if you'd like to see how I created this page.
Thanks for stopping by!