Hello Precious Remembrance Fans… It is Thursday and time for Project Thursday. Today I have 2 projects to share with you that I created using the Daily Thoughts Bits & Pieces, Happy Art Stamp Set, Antique Gray Buttons, and Mini Doilies.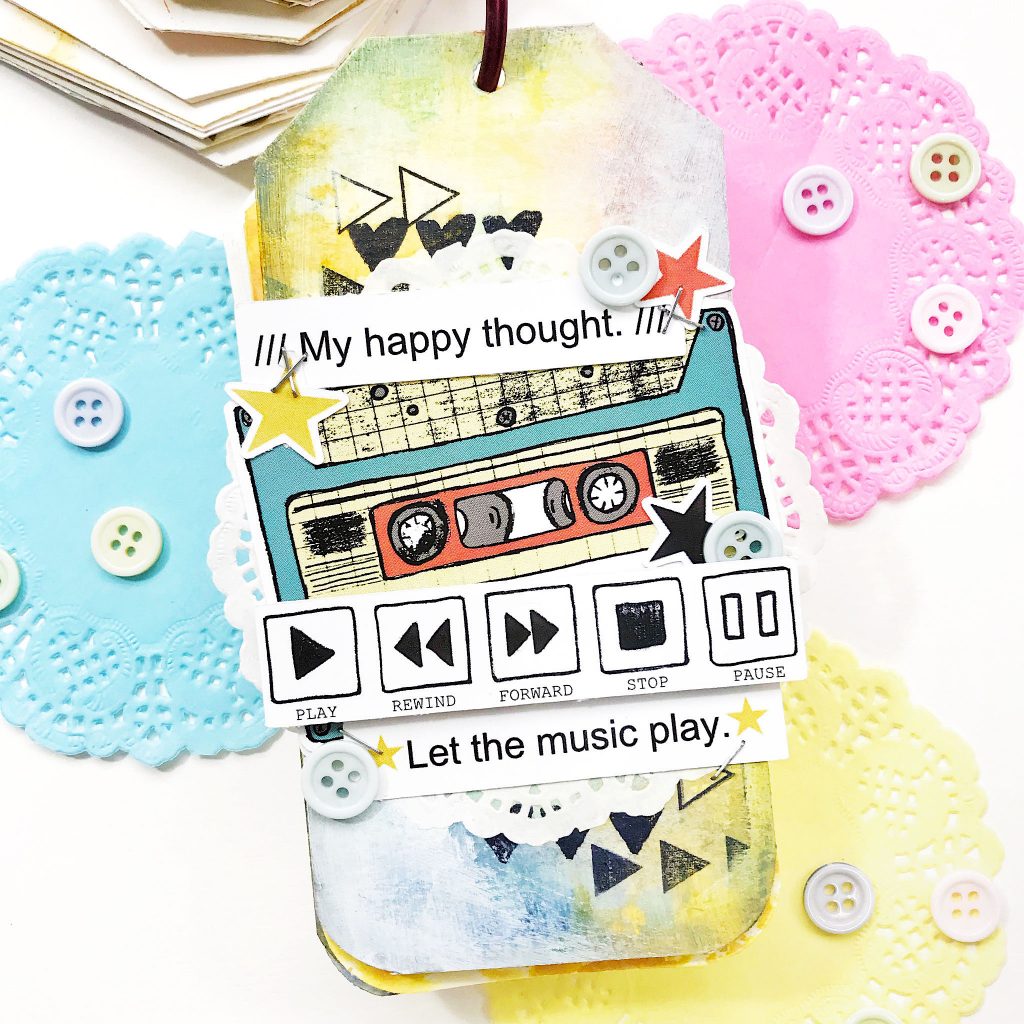 My first project is a mixed media tag. I started with creating the tag background. I used watercolor 140 lbs paper for the tag because I like it thickness and sturdiness, especially with I works with mediums and water. I added Distress Oxide Inks on my craft mat – one color at a time – then I sprayed with water and dip my tag. I dried the color each time I added color to build up the layers of colors.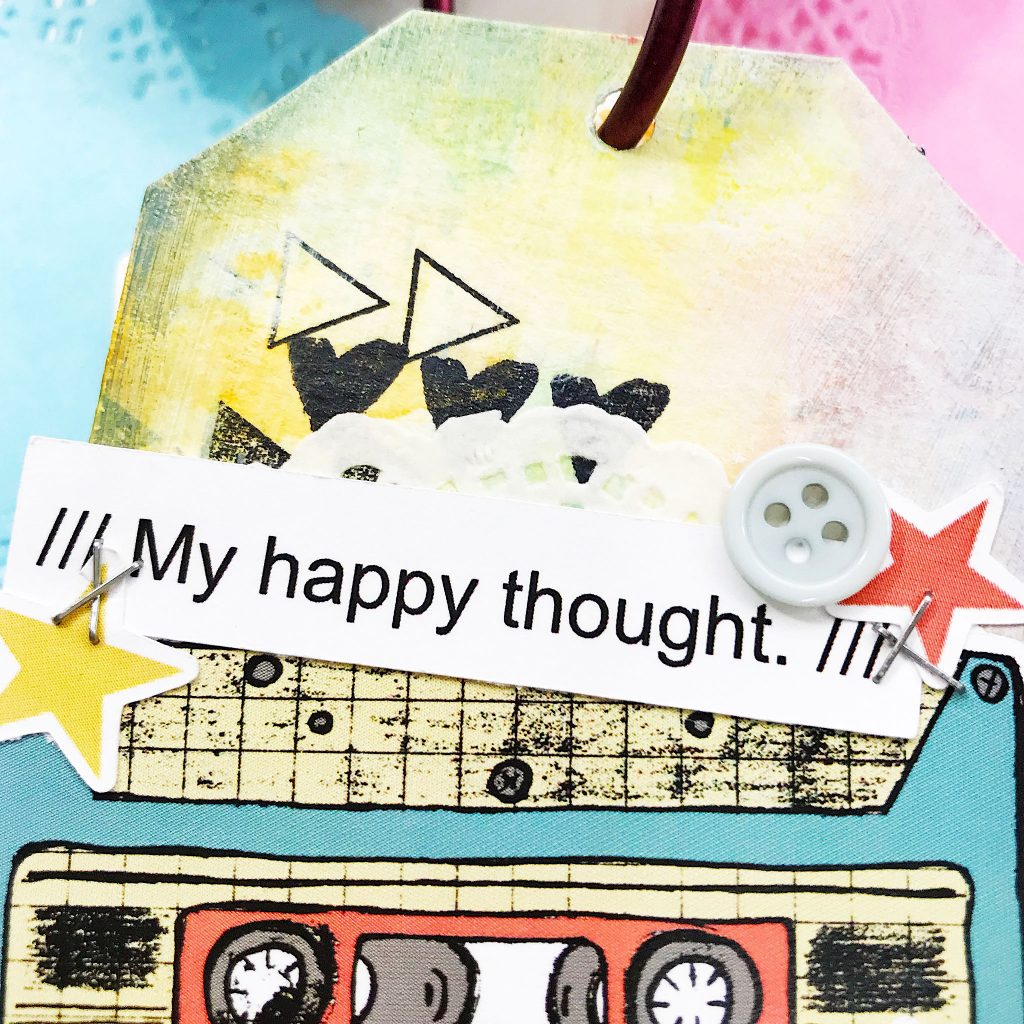 After all colors dried, I added some water splatters on it and dabbed it off with paper towel. Then I added thin layer of white gesso around the edge using my finger. I dried it with craft heater and then I stamped the triangles and hearts from the Happy Art Stamp Set with Black Archival Ink Pad. I dried the ink again with craft heater.
Next, I added some gel medium to cover the tag with foam brush, added one of the Mini White Mini Doilies on top of it and then added some gel medium again all over it. This will glue and seal the doily on the tag. Then I added some more white gesso randomly on the tag.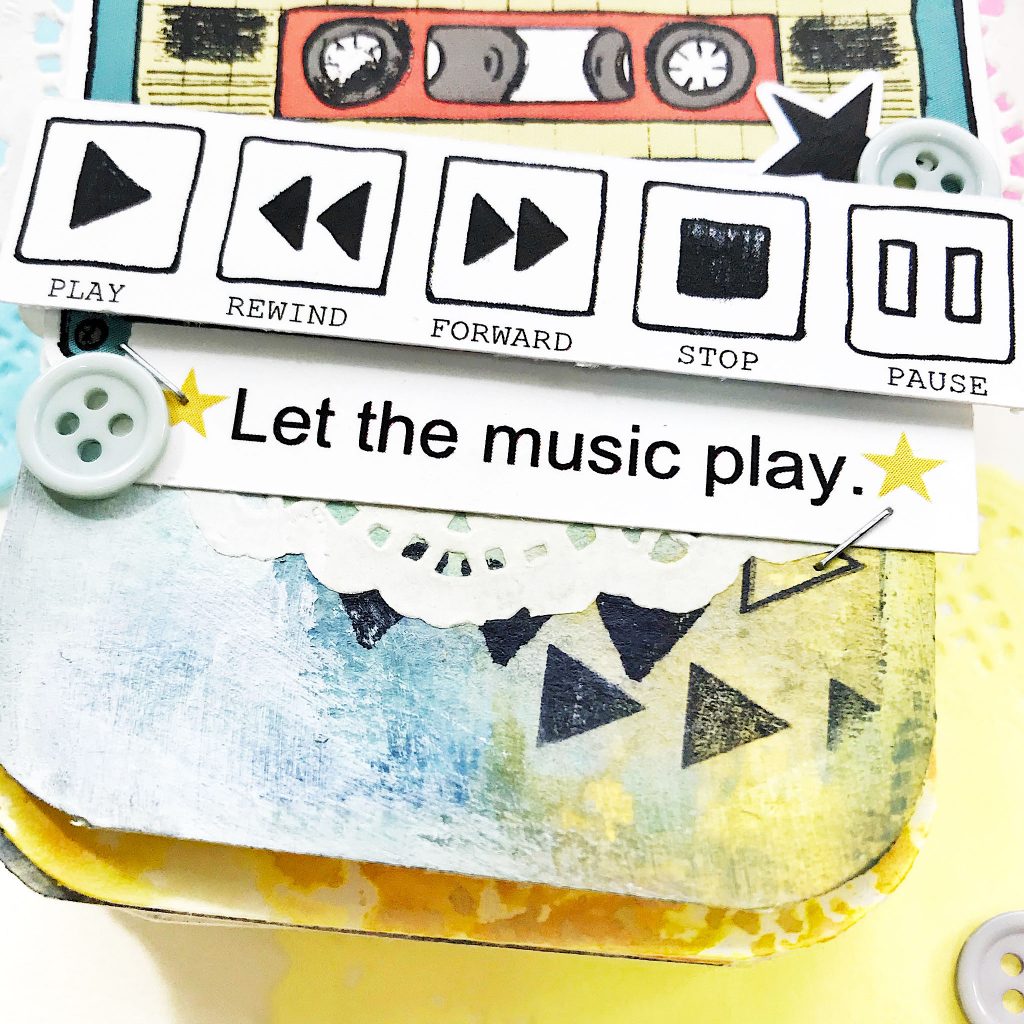 Once the gesso is dry, I added one of the big cassette from the Daily Thoughts Bits & Pieces Set with dries-clear adhesive glue. Next, I added the word strips and stars on the tag with dries-clear adhesive glue and I added some mini staplers on them for extra accent.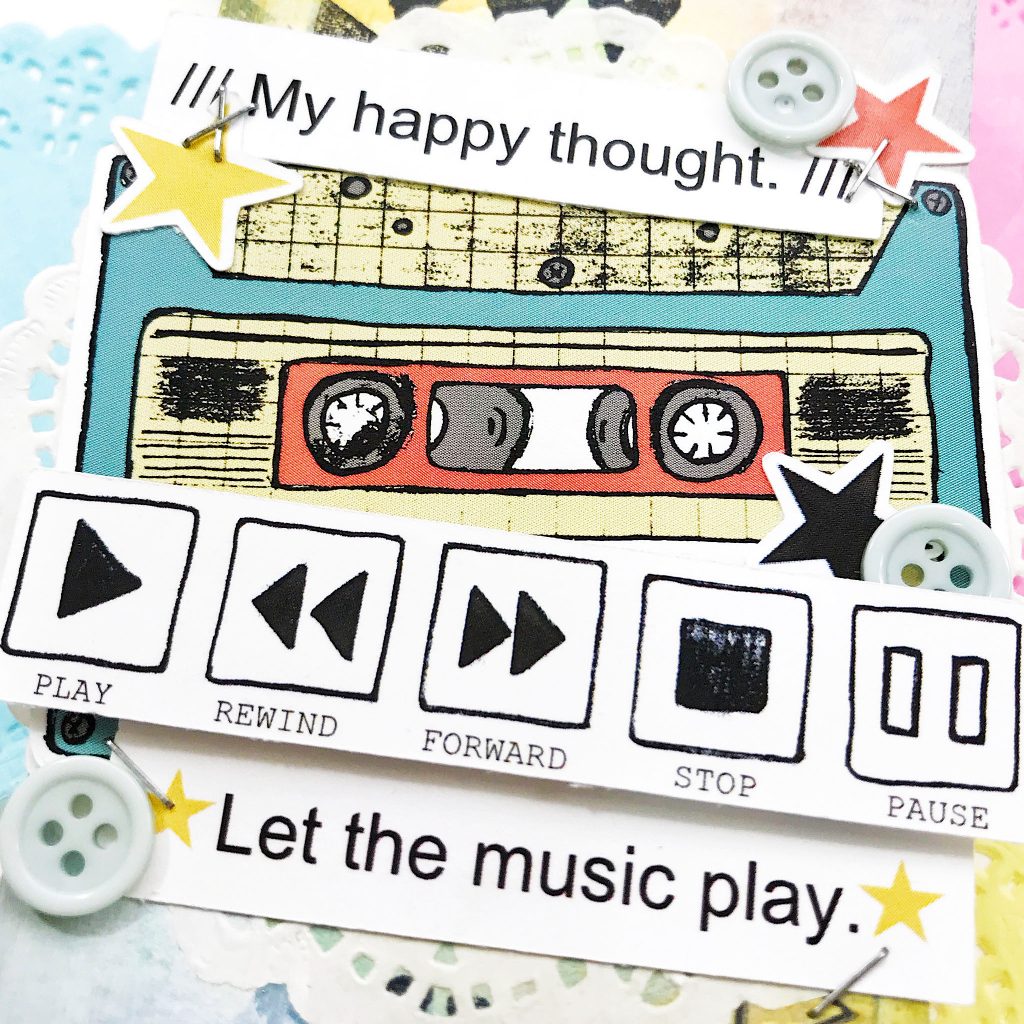 I added the buttons strip on the tag with 3D foam tape for extra dimension. And I embellished the tag with more star and buttons. That finished the tag 🙂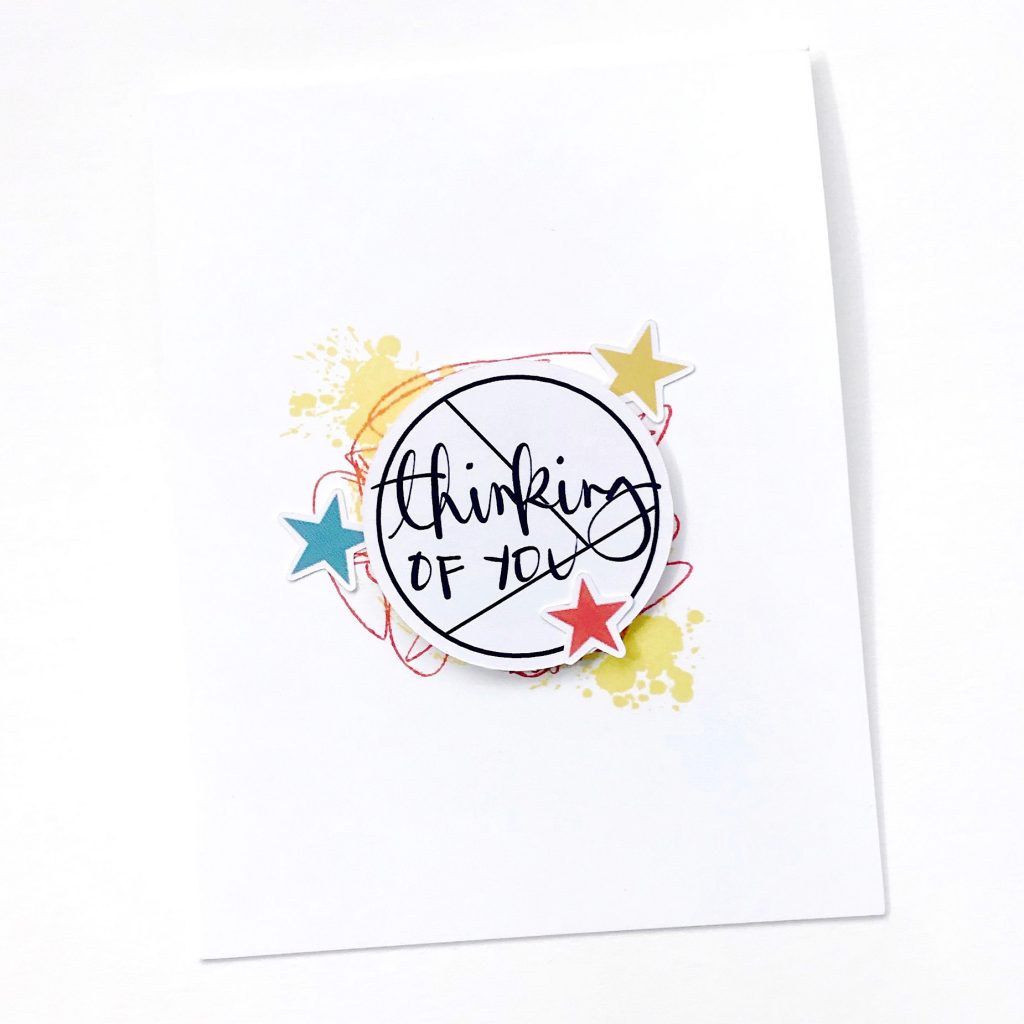 And for my second project it is a Thinking of You card. The front card is a clean-and-simple design. I stamped the scribble and splatter images from Happy Art Stamp Set in the middle of the white card. Then I added the Thinking of You piece on it with 3D foam tape and added the stars with dries-clear adhesive.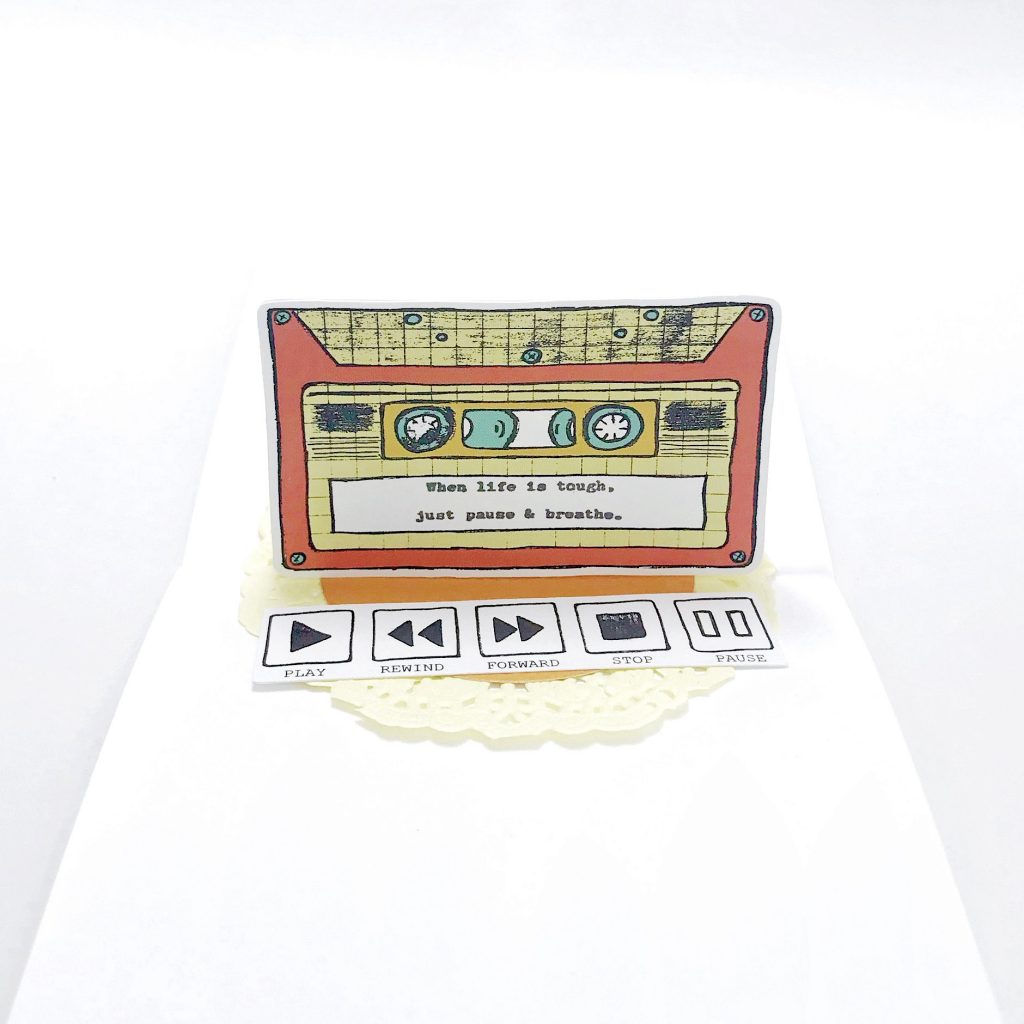 And for the inside, I created this pop-up using this tutorial. For the back of the cassette, I trimmed a white cardstock that the same size with the cassette. I used one of the Mini Yellow Doilies.
I hope you all enjoy today's projects post. Thank you for stopping by today. Have a wonderful day!